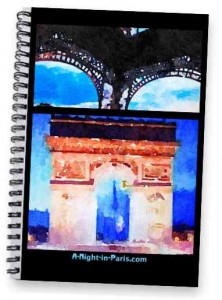 If you're travelling with children, make your kids a Travel Journal before you leave home, and document the things they loved about where they were visiting.
Buy mini-staplers (they're so tiny!) and glue sticks and supervise if necessary as your kids staple in business cards from toy stores, museums etc you've visited. If you forget to buy before you leave home, buy on arrival in a supermarket.
Encourage them to :
DATE each item
DRAW in their Travel Journal
and WRITE about what they liked … and didn't like :-)
Help them create PAGES at the start of your trip for things like:
What are the new foods I tried?
What is the best candy I tried? (or "lollies")
What are the new words I learnt?
What are the most fun/boring museums we visited?
Explain how they can answer these questions whenever they like throughout the trip, and they'll have fun drawing on the pages to remind them.
Show them how to staple cool stuff in their Travel Journal, like:
the entry ticket to a museum
or a brochure about the Catacombs
or a business card from that fabulous icecream place where you had so much fun
perhaps a postcard of a tourist attraction like the Eiffel Tower
or maybe even a price tag from something they purchased, the brighter and more colourful the better
you can even staple in the tear-off luggage tags from their bags – and boarding pass stubs – to get them started.
They can cut out words from tourist brochures and glue or staple into their book, then write what it means in English beside it.
When you get back home, go over your Travel Journals together to remember the fun you had and to share your experiences again – the kids will love this!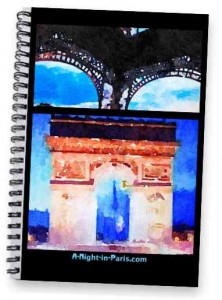 My Travel Journals to buy online
I've created several new travel journals with my own photos and designs, which have unlined pages (great for drawing!).
The spiral spine allows the kids to open the journals flat or fold under while they write on the pages, great for travelling.
Order these to arrive before you leave on your trip, and the kids can start putting in some headings and questions at the top of the pages.
Be one of the first to own this new Journal!
Size: 4.5 x 8.5″
50 pages/100 sheets
Introductory Price to 7th July 2014:  $US14.97 + shipping $5.00 worldwide (total $19.97)
Price from 8th July:  $US19.97 + shipping $5.00 worldwide (total $24.97)
Early Bird Special Price!
.