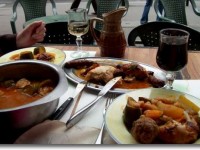 Looking for Turkish lamb in Paris?
Yeliz Turkish Restaurant
This small fast-food Turkish restaurant not far from Sacre Coeur is cheap and good. Friends have told me you pay only 6 euros for delicious lamb and couscous.
Yes this Turkish restaurant has a fast-food front, but once you step inside, it is actually a restaurant. My friends said to check out the comfortable seating in the back. A bonus is that the staff are very friendly and kind.
Yeliz Turkish Food
41, rue de Clignancourt
75018 Paris
Metro: Barbes Rochechouart and Chateau Rouge
Metro: Anvers
If you enjoyed this, please feel free to share on
Twitter
,
Facebook
or anywhere you like (click one of the little icons for Delicious, etc). I'd love to hear from you!