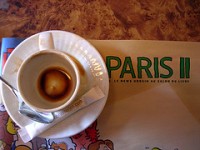 How do I order coffee in Paris?
When you're in Paris, it's easy to get a bit confused about ordering coffess in cafés. I hope this description might help somewhat :-)
For all you coffee lovers who love to savour your Italian Arabica-style coffee beans, stop right here – you won't get coffee like that in the majority of French cafés. Before you start to despair, I have found a couple of places in Paris where you can buy your Italian-style espressos and lattes (links below). The normal coffee sold in Paris is not made from Arabica beans, but is made from Chicory – a very different flavour.
These descriptions listed below are what the French people ask for in a café.
Two prices, same coffee … why?
You may notice people standing at the bar in cafés – they will pay a cheaper price than the people sitting down at tables, who require table service, so if you're in a hurry you can save yourself some money by drinking at the bar or counter.
Normal sized cups
Un Café : a normal sized cup of Chicory coffee.
Un Café au lait : if served at breakfast time, this can arrive in bowl (un bol) – don't be alarmed, this is quite normal. May also be served in a normal sized cup of coffee with a jar/small pot of milk.
Small cups
Un Express : an espresso in a small cup.
Une Noisette : a small espresso coffee with a dash of milk/cream in it (a macchiato).
Une Crème : an espresso half-filled with warmed milk (small café au lait).
Un Allongé : an espresso coffee with double the amount of hot water (weak black coffee).
Un Serré : an espresso coffee with half the usual amount of hot water (strong black coffee).
Un Déca : a decaf coffee.
Un Américain : filter coffee (might not be available in some of the non-touristy areas).
I took this photo of the Cafe Americain – one place you can certainly get American-style filtered coffee.
Related Links:
Where to find soy latte in Paris
Teena recommends where to find Italian-style coffee in Paris
Teena's tips on making the best Italian coffee in Paris – at home
If you enjoyed this, please feel free to share on
Twitter
,
Facebook
or anywhere you like (click one of the little icons for Delicious, etc). I'd love to hear from you!