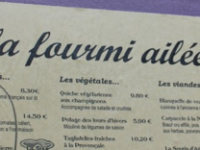 Well ok – La Fourmi Ailee is NOT a vegetarian restaurant
Although it's not strictly vegetarian La Fourmi Ailee has some meals that any vegetarian would enjoy.
If you are a vegetarian visiting Paris I recommend having a meal there, even though I haven't been there myself, but I have friends who've recommended it highly.
They tell me it's a charming and informal "writer's haven" filled with bookshelves of books – sounds great! It used to be a library, so it has lots of history and a real "bookish" feel to it, for those who love the written word like I do.
There's a non-smoking section upstairs, something still very rare in Paris.
My friends said, "La Fourmi Ailée features a wonderful, varied menu including several delicious vegetarian items. One is a tofu lasagna with just enough cheese and Roma tomatoes to hold the ample noodles together."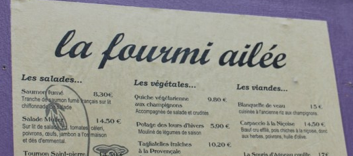 La Fourmi Ailee
8, rue du Fouarre (between Notre Dame and the entrance to the Latin Quarter neighborhood)
Paris 75005
Metro: Maubert-Mutualite
You might also like to view the Where to Eat in Paris page and also the Famous French Food page.
Map to La Fourmi Ailee
[mappress mapid="14″]