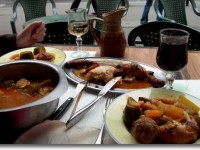 Couscous is served in lots of great restaurants and bistros in Paris, and although it's not originally a French dish, it's very popular …  and is one of my favourite things to eat in Paris.
Couscous has become the name of the dish, when it is actually a grain (like polenta or rice), served with meat and veg.
Originally from North Africa / Algeria regions, a serve of Couscous consists of lamb, sausage, chicken or beef slow-cooked until it's fall-off-the-bone tender, and is then served with vegetables and a grain called Couscous.
In the 18th arrondisement my friend Sigrun and I came across a marvellous litte bar which didn't look very special from the outside, but their blackboard menu outside caught my eye – one item only – couscous.
Being adventurous, we popped in and ordered the couscous for lunch. We sat at the table right at the front bordering on the footpath/sidewalk, so we could watch the world go by on this lovely summer's day.
When the meal arrived, the servings were huge, consisting of a large platter of meat, a big bowl of vegetables done just right in a stew-like broth, and the couscous (grains) with sultanas / raisins in it.
Our mouths were watering! As you can see in the photo above, it was a hearty meal for a summer's lunch, and we didn't need to have any dinner that night. The aromas wafting on the summer's breeze were wonderful and oh so tempting, and I couldn't wait to get started.
In the photo above you can see the couscous grains which had been soaked in hot water to make them soft and fluffy.  Those giant raisins were so sweet and plump and were a wonderful complement to the meat and vegetables – it was all so delicious!
The vegetables are cooked in a broth (as shown In the photo above) and are firm enough yet imbued with such flavour – I have to admit if I lived near a restaurant or cafe serving couscous I'd be tempted to eat it a lot!
In the photo above you can see the platter with merguez (a spicy sausage), chicken and lamb. The chicken and lamb had been cooked long enough to be tender – the meat fell off the bones, and was so delicious.
Once you choose from the different platters and place your mixture of the 3 dishes on your plate, it's a riot of colour and the aroma is incredible.  Just looking at these photos again is making my mouth water at the memory of this delicious lunch :-)  (see photo above)
This photo above shows how much we COULDN'T eat, but we did manage – just – to finish off our wine.  I love the small jugs of wine called "pichet" (and pronounced "peeshay") – just enough for a midday relax with a yummy meal.
I hope you've enjoyed this meal with me – I look forward to sharing some of my others with you too.
Prices : Couscous 8 euro, Pichet de Vin Rouge (carafe of red wine) 8 euro
P S – although I didn't write down the name of this café, it was right near a great shoe shop – Chaussures Marvin – at 56 rue Marx Dormoy, 75018 (if you're ever looking for fabulously comfortable walking shoes and wide fittings). If you stand on the footpath/sidewalk looking at the shoe shop, the couscous bar is a few doors to your right.
A bientot (see you soon!)
Teena