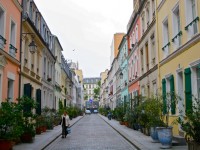 A long time subscriber of mine, Charles sends his fabulous photos of Paris
The photos of Paris on this page have been taken by Charles on his trips to Paris, and he's happy to share them with you – aren't we the lucky ones!
Charles says:
"Teena, Are you familiar with the Rue Cremieux?  It's a little street with a row of painted houses that seems like it should be more in the countryside than in downtown Paris.  Very charming and not mentioned in many tourist books.  I stumbled upon it one day when I was staying in a nearby hotel.  It's very close to the Gare de Lyon."

Charles, I'll be visiting this gorgeous Paris street in June 2012 – I can't wait to see it in person, and want to thank you for the lovely tip!
In the photo above, you can see the brightly coloured homes which line rue Cremieux. Below you can see two examples: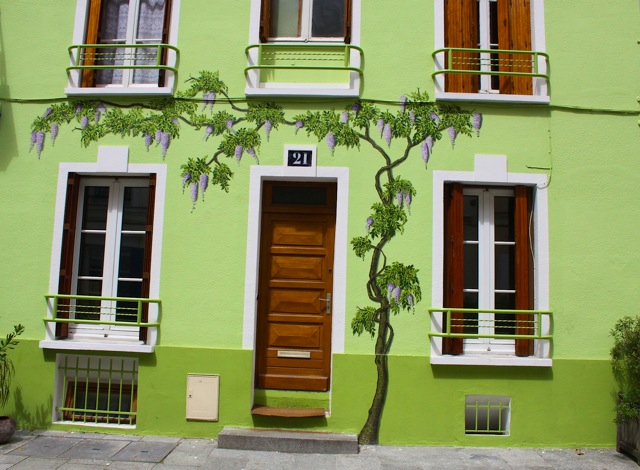 Above: isn't this gorgeous, with the tree and flowering branches painted on?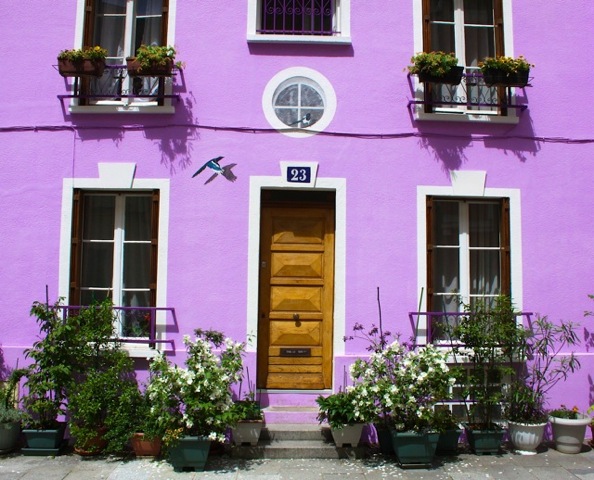 Above: isn't this lilac house divine? Look at the bird near the top left of the front door – the detail is wonderful!
Below: two more of Charles' marvellous photos of Paris.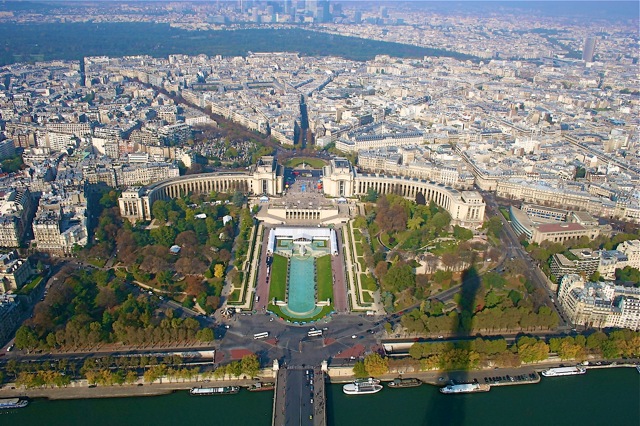 Above:  Photos of Paris taken by Charles Moncrieff III – Trocadero as seen from midway up the Eiffel Tower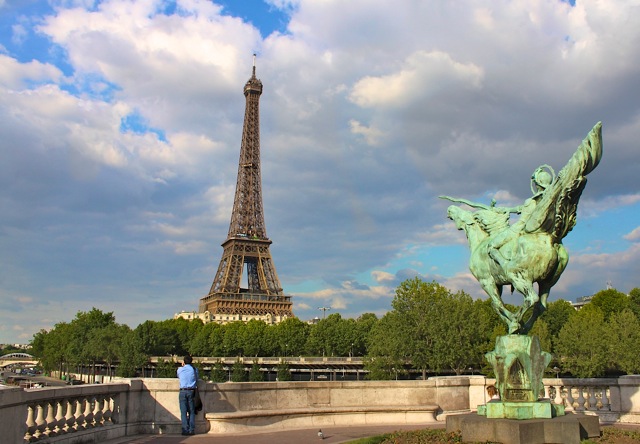 Above: Photos of Paris taken by Charles Moncrieff III – the Eiffel Tower viewed from Bir-Hakeim Bridge
Charles writes for www.vegaswinenews.com – all photos of Paris on this web page are © Charles Moncrieff III, generously shared with the visitors of Teena Hughes' A-Night-in-Paris.com website – thank you Charles!
Map showing where Rue Cremieux photos of Paris were taken
.[mappress mapid="16″]
Map showing Metro stop Bir-Hakeim where photos of Paris were taken of the Eiffel Tower
[mappress mapid="17″]