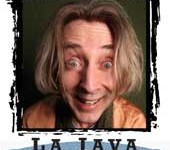 Like stand-up comedy?
After a sensational evening last Wednesday with The International House Band and Meow Meow performing choice cuts from the Cole Porter and Jerome Kern songbooks it will be Emo's turn to take to the stage at La Java on Wednesday 8th September : He may not have deigned to play his clarinet with The House Band but he was in the audience digging the music just as in turn the House Band will be in the audience laughing at his bizarrely logical humour.Tickets are going fast so get booking.
Karel Beer
the semi-legendary
Emo Phillips
in all his glory will be Standing-Up at
La Java
105, rue du faubourg du Temple Paris 10
Wednesday 8 September 8-30pm
http://www.emophilips.com/
tickets if you pre book by email15 €
card carrying members and students a snippet at 12€
Tickets on the night not pre-booked a whopping 20€
In praise of … Emo Philips
Brian Logan The Guardian 12 August 2010
He tells semi-surreal jokes so short and sharp that they make the audience jolt as well as laugh
Many comedians deserve a newspaper's praise but only one comes on stage with a Joan of Arc bob, big buggy eyes and a voice that is quavering and quizzical – and as camp as the fields at Glastonbury. Emo Philips is a pith artist, really. He tells semi-surreal jokes so short and sharp that they make the audience jolt as well as laugh. Those who see the Chicagoan play the Edinburgh fringe this month will get plenty of proof of this, but many of his gags are known by people who have never heckled a stand-up in their lives. This is bound to have turned up in more than a few inboxes: "I ran three miles today, and finally I said, 'Lady take your purse.'" After winning his first major success in the 80s, Philips was often dubbed an alternative comedian, but his jokes are much cleverer, cleaner and funnier than that term suggests. He is the elder statesman of the one-liner : "I think my ex-wife had weekly lessons with the devil on how to be more evil. I don't know how much she charged him." Indeed, his comedic style could easily feature on Radio 4 (you might say it already does, so many British comics have ripped him off). His jokes are often informed by a sense of cosmic injustice that means all people are cursed with rotten luck. Rather than get angry about it, the Philips way is to coin cheery one-liners. "I saw an old woman changing a flat tyre, and I walked right by, like everybody else," goes one classic. "Then I thought what kind of person am I?
So I went back and said, 'Have a nice day.'"
Tuesday September 21 8-30pm
Shazia Mirza
Karel Beer
Beer Necessities
104 quai de Jemmapes
75010 Paris