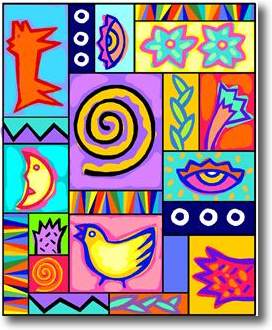 How to make a quilt in Paris
French Quilts
So you want to know how to make a quilt, where to buy patchwork, the fabrics, notions, ribbons and other goodies … and you're in Paris, France.
I've found some great places which should get you started -have a great time shopping!
Website Tip!  French to English Translation
For a quick and easy French to English translation when you're looking at French arty websites, follow these simple instructions:
Go to http://www.google.com
type the URL – website name, including .com or .com.au or whatever, into the search box
Search
the website should be the first result in the list
beside the first result, you should see 'Translate this page' – click that link
the translation won't be fabulous, but it will at least allow you to read the pages in broken English
enjoy!
Artists/designers of well-known French quilts
I've seen some absolutely beautiful French quilts online, and I've found a coup0le of well-known French quilters … Cecile Yadro, who runs the prize-winning website Quilted Creations – visit Cecile's website http://www.quiltcreations.com Visit Cecile's blog in English : http://quilt-creations.blogspot.com/ Odile Berget, webmistress of the site sponsored by the French National Guild -visit Odile's website http://www.francepatchwork.com Simone Struss, quilter, teacher, and creator of a delightful personal quilting website called "l'Atelier Patchwork de Simone" – http://www.quiltingstudio.fr
How to make a quilt : Fabric/Textile shops in Paris
Le Rouvray
I'm sorry to say that this delightful store is now closed forever – here's the message on their website:
Forty-two years have passed since we first opened our shop with that unknown specialty called patchwork.  We have sadly had to close our shop, but know that those who have visited us make the memory live on.

Madame Diane de Obaldia used to be at:
3 rue de la Bûcherie 75005 Paris phone : 33-(0)1 43 25 00 45 fax : 33-(0)1 55 42 02 61
This store specialised in patchwork, and is on the lovely little square close to Notre Dame cathedral – although it's no longer open, the website is still alive and you can gain inspiration from visiting it: http://www.lerouvray.com
Tissue des Reines
About a block away from Amelie's carousel you'll find our storeys of fabric madness, including cotton prints suitable for quilting. There is also a fabulous ribbon collection upstairs.  This is in the fabric area, so do wander around and look at all the great textile and haberdashery stores.
Dreyfus
Widely known as the 'Marche Saint-Pierre', you'll find a huge variety of fabrics here and it is usually cheaper than anywhere else. The store Reine (mentioned above) is abit smaller and has a good selection – I've been told the Moline store has a patchwork fabric section but I haven't visited it myself.
La droguerie
You'll find la Droguerie close to Les Halles – 9 et 11 rue du Jour, Paris 75001
l'Entree des Fournisseurs
Can be found in the Marais – 8, rue des Francs Bourgeois,  75003
Tapisseries de la Bûcherie
http://Bucherie.com is owned by a little shop called Tapisseries de la Bûcherie run by Madame Dominique Siegler-Lathrop. The shop is located in the heart of Paris onthe left bank of the Seine. The shop is always open and is a veritable Aladdin's cave for needlepoint. Specializing in unique needlepoint kits, including hand-dyed wool from Aubusson. 2 rue du Haut Pavé Paris 75005 France Telephone +33 1 40 46 87 69 (international dialing) 01 40 46 87 69 (from France) Opening hours for the store are 12:30 to 7:00 P.M. Tuesday throughSaturday; 2:00 to 7:00 P.M. Monday.
Textile Conferences
7th International Shibori Symposium was held in October/November 2008 in Paris, France in conjunction with the World Tie-Dyed Textile Exhibitionevents in Paris, Lyon and Provence. http://www.shibori.org : tel USA +1-510-527-3432, for more info you can email:  iss08fr@gmail.com
Books
http://Brentanos.fr — Paris, France. Brentanos has a specialized section of patchwork and handicrafts books. Dominique Siegler-Lathrop lives in Paris, France where she owns andoperates her shop "Tapisseries de la Bucherie" (see above for detailsof the shop). Her speciality is tapestries made with hand-dyed woolsand many of her designs are historically accurate – see the book In The Secrets Of Needlepoint
French knitting
I don't have any information on French knitting yet, but if you'd like to share links or addresses, that'd be fantastic. If you have any websites, stores or links for places in Paris, France, please let me know and I'll add them to this page. Enjoy!
Related links:
Make a quilt | Quilt questions | Textile shops | Textile shops map | History of Montmartre
I hope you have fun with all this How to Make a Quilt info – let me know if you'd like to recommend anything else.