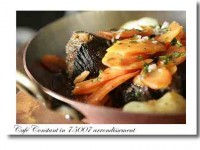 When looking for a yummy place to take some friends, Cafe Constant in 75007 arrondissement was recommended to me.
I look forward to trying it out some time soon! I've been told the 1st floor (1ere etage) is roomy and good for a small group of friends.
The Cafe Constant is owned by Christian et Catherine Constant, and Christian is a well-known chef in France. Christian's words appear on the website, which I thought you might enjoy:
« Ici, je fais de la cuisine de brasserie traditionnelle inspirée des recettes de ma grand-mère. C'est un lieu où l'on peut venir prendre un café et un croissant le matin, un dejeuner en toute simplicité, un verre en fin de soirée… En un mot, un vrai bistrot parisien ».
Translated, "Here I create traditional brasserie cuisine inspired by my grandmother's recipes. It's a place where you can come and have a coffee and croissant in the morning, a simple lunch, a glass at the end of the evening – in essence, a true Parisian bistrot." Sounds divine!
Courses: Entré (starter) 11 euro, Plats (Mains) 15 euro, and Dessert 7 euro.
You can also read the menu online >>
Café Constant
139, rue Saint-Dominique
75007 Paris
FRANCE
Tél.: 01 47 53 73 34
http://cafeconstant.com