Short rental in Paris, from shoestring budget to 5 star hotels
For every kind of short rental in Paris accommodation to suit your budget, wishing to visit Paris on a shoestring, whether you're a backpacker, other tourist, business person or high roller, you'll find information here.
In the image below you'll see an example of the search results in the Hotel search engine I use: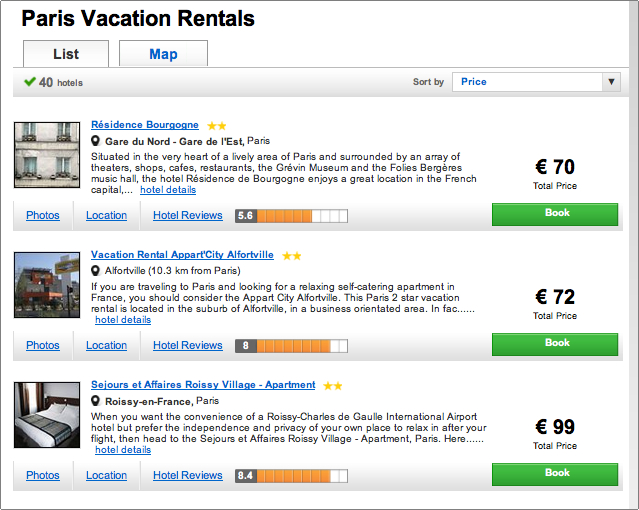 When I first moved to Paris and fell in love with it – totally – I always said, "If I ever end up being destitute or short on cash, I want to be in Paris!". Of course that sounds silly, but what I meant was that even the person on the smallest budget could afford a baguette [long bread stick], inexpensive wine [fill your own bottle even!], and a cheap place to stay. For a short rental in Paris, one of the best places to find budget vacation lodging is CraigsList.com – a well-kept secret [so far :-) …].
Never heard of it? It's a website which started in the USA, and quickly grew to accommodate cities around the world.
Anyone and everyone can post everything from jobs to properties for sale, to short term rental, join forums of all kinds etc.
You'll be amazed at what's available – I've given detailed tips on searching CraigsList for accommodation – click the link to see how easy it is.
Many people are happy to rent out their apartment for a week or more while they travel, and many apartments in Paris already have Wifi installed – perfect for the savvy traveller, and at a much reduced price from regular 2-3 star hotels and B&Bs.
For a little bit more than a backpacker hostel, you can stay in a Studio with your own kitchen and bathroom, and feel totally independent, with the privacy you may not get in a hostel.
You can also find apartments
There are many other websites online where you can find apartments for holidays and short rental in Paris, and as soon as I have some good reviews from visitors, I'll add those links to this page.
Related links to short rental in Paris:
Hotel Search | Craigslist Paris | Reviews | Gay Friendly | Short Rentals | Studios | Youth Hostels | B&B | Tips!