Craigslist Paris finds fantastic inexpensive accommodation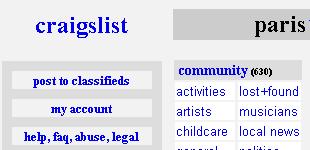 One of the best kept secrets on the internet is the Craigslist Paris listings for accommodation.
I was amazed to find a wealth of info on current studios, apartments, B&B's and boutique hotels listed at better prices than renting a room in a pensione or small hotel.
If you're happy to stay in someone's apartment while they're out of town, then this could be the perfect solution.Some of the studio apartments I looked at recently in Craigslist were gorgeous! Yes, they were only one room, some had huge high ceilings with a bed platform you climbed a ladder to reach – but what fun!
You pick an arrondissement you like, and read through what's available.
As these are people's homes, they are generally not listed for very long, but this also means there's a great turnover of listings.
The other great benefit is that generally you book via email – and don't pay any money up-front – until the day you arrive. Naturally you might need to pay in cash [French francs / Euros] as many people will not be able to accept credit cards, but if you plan in advance, you can pay via Paypal online, after you've viewed the apartment.
---
My tip here would be to make sure you've also looked at inexpensive hotels in the same area, so if for any reason the apartment isn't suitable, you will be within walking distance of alternative accommodation. The benefits of being prepared far outweigh any negative aspects of renting someone's apartment, in my humble opinion.
OK! Let's get started!
Pop over to CraigsList.com [you can click on the link to open up a new browser window].
It will look something like this: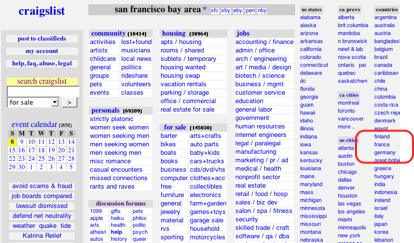 On the right hand side of the image above is a little red marker showing where France is – you can either click the word FRANCE or scroll down to 'International Cities' and click on PARIS.
Towards the top of the Craigslist Paris page you will see the heading PARIS – just to make sure you're in the right city page :-)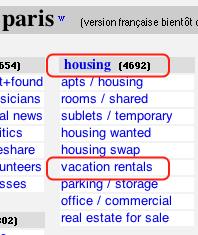 Below this Craigslist Paris heading you will see a major heading called HOUSING, and in the list below you will see 'Vacation rentals' – this is the place to click.
After you click the link for VACATION RENTALS, you will be presented with a list of postings, and the current date appears at the top.
You may notice the word PIC or IMG at the end of some listings – this means there is a photo – a real bonus to see what you're getting in advance :-)
You can also see the LOCATION – and yes, some people DO post the wrong locations hoping to capture more of an audience – they don't seem to care, and I suppose if they post on Craigslist Paris when they are also posting in Craigslist Los Angeles or New York, then maybe – just maybe – someone will click their link.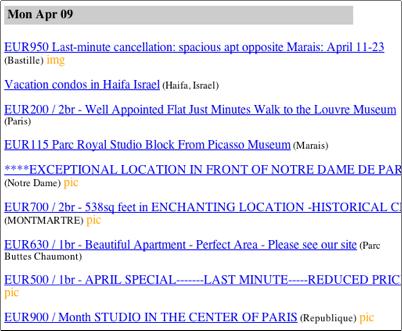 On Craigslist Paris each owner puts as much or as little info as they like, some put lots of photos and others just one or two.
Read CAREFULLY though, to make sure whether the price is NIGHTLY or WEEKLY. The first one in the list above is 950 Euros per week, so remember to read the listings very carefully.
You'll be amazed at the wonderful apartments available – I sure am!
How much is a Euro??
If you like to see what the Euros will be in your own currency, you can click this link and type in the Euros and select your currency – easy!
Payment
Don't forget to ask plenty of questions, don't pay the whole lot in advance, do what feels right for you.
You might even prefer to book alternate accommodation for 1-2 days in Paris, then check out Craigslist when you're in the area – giving you time to go check out some of the apartments.
I do hope this page has helped you understand Craigslist Paris enough to find a fabulous place to stay at just the right price.
Enjoy yourself!!
Related links to Craigslist Paris:
Hotel Search | Craigslist Paris | Reviews | Gay Friendly | Short Rentals | Studios | Youth Hostels | B&B | Tips!