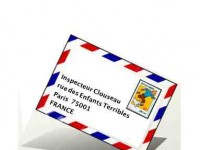 postcards from Paris

 

with Teena Hughes   |  october 2013 video newsletter
Bonjour and Welcome to today's Postcards from Paris!
Hi – this is Teena Hughes, andI'd like to say, "Bonjour mes amies!", which means, "Hello my friends!"

So – have you been to Paris recently, or are planning a trip? Tell me what you want to see and do, I'd love to hear about your plans!  Click the video below to play >>
Today I bring you thoughts of cooler weather in the City of Love and Light!
Autumn is kicking in, with the odd warm days appearing less and less – if you're already in Paris, you can expect high temps of around 15 degrees Celcius and lows of around 7 degrees.

Want to read more about the weather? :
http://a-night-in-paris.com/weather-in-paris.html
Questions & Comments from my Readers
Here are a selection of questions from people who visit my site or follow my Newsletter – maybe my answers will help you too.  If you have a quetion, get in touch and I'll do my best to help :-)
Comment from Susan
This week Susan wrote about the Travel Packing Tips, and this prompted me to remind you that each time you land on a page on my website, you'll be able to find similar pages shown at the bottom of the page, listed as "Related Pages".  For example, if you land on any one of the Travel Packing Tips pages, you'll see something like this at the bottom of the page – simply click any one of the icons to go to another page:

Question from Kara
Kara was moving to Paris with only two week's notice, and had to find coats in a hurry!
Question from Lynne
Lynne's daughter is having a problem with her US Visa card in Paris:
Question from Chatelle
New Postcards from Paris Adventures Deck of Cards!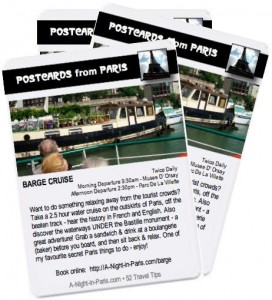 I've wanted to let you know that I've been working on a cool little pack of cards – 50 of them – and each one has a tip for a great thing to do or a great place to see in Paris, including some of my favourites.
I'm so excited about this, the pack is small enough to fit in any pocket, handbag or backpack, and each day you're in Paris you can shuffle the deck and pick out a new adventure for the day.
This is perfect for anyone going to Paris, or as a gift for anyone who loves the idea of Paris.
I'd love your feedback — does this sound like something you'd use?  Got any suggestions of your own? Click on the Contact form button in the Menu –  I'd love to hear from you!
What's on in Paris in October?
The French word "fete" means "festival" and there are so many to choose from, you certainly won't get bored in Paris!
check out one of my favourite place The Decorative Arts Museum – Musee les Arts Decoratifs >>   |  English site >>
another fave is le Musee d'Orsay (Orsay Museum)
the CHOCOLATE FESTIVAL! "For its 2013 edition from 30 October through 3 November, the Salon du Chocolat will increase from 12,500 to 20,000 sqm dedicated entirely to sweet treats."
Read more >>
the TANGO FESTIVAL – Tango takes over the Paris during this festival which includes concerts, dancing, music and singing workshops, cinema and video, art exhibitions, photography, theater, debates, lectures, food and cabaret evenings
Read more >>
NUIT BLANCHE (White Night) – an amazing collection of nocturnal events and activities in and around Paris, including museums, libraries, monuments, cinemas, etc.
Read more >>
Fête Des Vendanges de Montmartre — Wine and grape Festival in Montmartre! There are some free tickets still available for the acoustic concert with Alain Chamfort on 13th October. Be quick! Read more >>
Check out Paris' version of "garage sales", which are "empty the attics" sales (vide-grenier) – check out when and where >>

My Postcards from Paris Facebook Page
When you have a moment, pop over to my Paris Facebook page to see all the photos I've posted, and join in the conversation:
http://www.facebook.com/ANightInParisFrance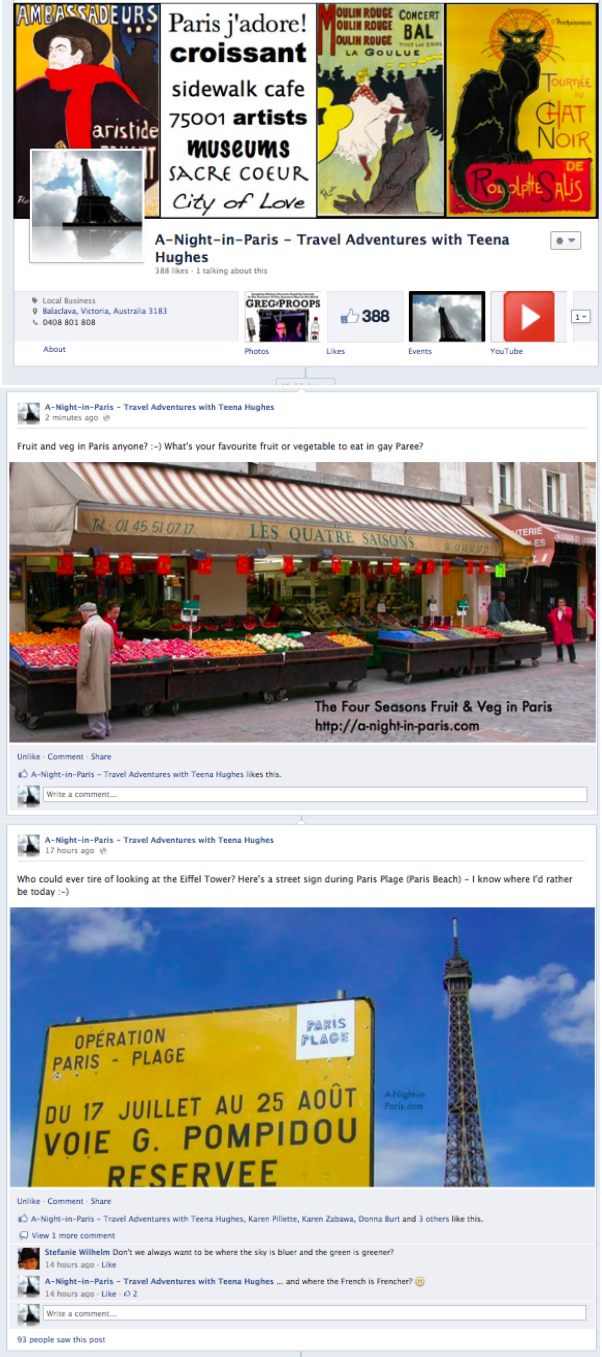 Not on this Postcards from Paris mailing list?

Did someone send you this email because they thought you might enjoy it? That's fantastic! Why not sign up for yourself, so you'll receive it in your inbox too?
Ciao ciao for now! I'll be in touch again soon – send me your questions and I'll do my best to help.
Cheers


Teena!
Teena Hughes, A-Night-in-Paris.com
PO Box 424, Burleigh Heads  Qld 4220  – Australia
Telephone Australia (+61) 0408-801-808
http://a-night-in-paris.com
I hope you enjoyed Postcards from Paris!