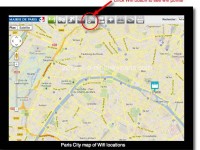 Using an iPhone in Paris- woohoo!
A wonderful thought, but if you're bringing your iPhone on holidays (from outside France, like the Optus network in Australia) you need to be aware of a few things. Here is a small section of the map of Paris showing the City of Paris WIFI hotspots:
UPDATE 14th July 2015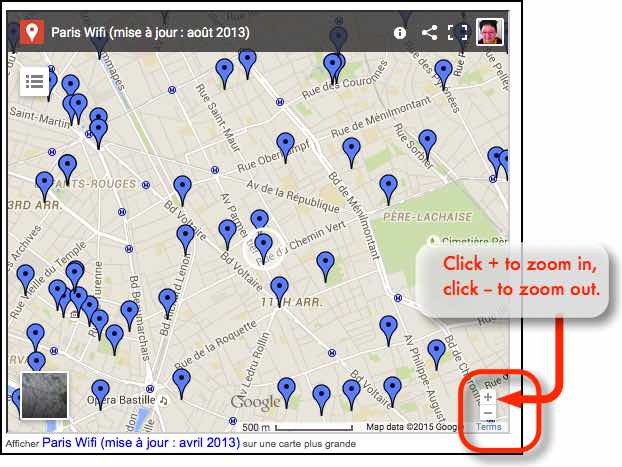 Click on a blue icon to find out the location
When I arrived a week or so ago, I didn't really think much about using my iPhone apart from when I would be in Wifi areas. Optus had advised me to go to my iPhone settings and make sure I turned off 'roaming' so I wouldn't incur astronomical charges while abroad:
UPDATE: 11 Sept 2015 — go to Settings/ Cellular
turn OFF "Celular Data" and turn OFF "Enable 3G"
before my flight left Australia, I went to Settings  / General / Network
I turned OFF "Enable 3G" and "Cellular data"
on arrival at my destination in Paris, I selected Settings / Wi-Fi
the surrounding Wifi options appeared and I chose the one my landlord had advised and typed in the password
every time I leave the apartment, the iPhone automatically looks for other Wifi to connect to (but it can't connect if a password is required, unless you have the password).
TIP! WIFI is pronounced differently in French, and sounds like "WEE-FEE"
Another option – buy a cheap cellphone in Paris
I didn't really think I'd need to use my iPhone for much else because I have a travel cellphone which I use when I'm in France. I already had one from my last trip, but you can easily buy one in many phone stores for about 30 euros. For this travel cellphone:
on arrival in Paris I buy a SIM card (in a cellphone store – they're all over the place; or at a phone company store like ORANGE, FREE, etc) – ask the phone people to change your cellphone Settings to English to make it easy for you to use
then I buy a "recharge" card at a Tabac (cigarette store often inside a bar) – choose how much you want to spend, and tell them which company you've got your SIM from (ORANGE, FREE, etc)
make sure you ask the SIM card folks how to check how much money is left on your "recharge" – for example, on Orange, I press #123# and then select Call, and the resulting amount of Euros left appears on the phone's screen.
For the Optus iPhone I brought with me from Australia, I can access some Apps (maps which have been downloaded and a few other things) without being in a WiFi zone.
"Where do I find Wifi for my iPhone in Paris?"
If you're wondering where to find those Wifi zones, you're in luck:
many cafes (McDonalds and Starbucks too) and restaurants have Wifi – can you see anyone using a laptop or iPad? There's probably Wifi in that cafe
another way to check is to look for the WIFI sticker on the windows of those cafes and restaurants
each cafe will advise whether or not you need a password – on your iPhone go to:

Settings / WiFi – in a few seconds all the Wifi zones close by will appear
DO NOT BE EXCITED WHEN YOU SEE THE UNLOCKED "FREE" WIFI ZONE in the list – "Free" is a brand name of a cellphone company in France – it does NOT mean it is "free" and "available" Wifi – sorry to disappoint you :-(
you used to be able to get 2 hrs free by selecting "Orange", but I don't think that's valid anymore as when you select you you have several different options to PAY for access, but no free access that I could find
if you see the Cafe or Restaurant name, that's a good bet to start with – if you're present with a sign on screen, ask the waiter for the password, "Est-ce qu'il y une code pour le "weefee" monsieur/madame?"
in the last 3 cafes I visited they all had different ways to give the code – one had a plastic card with the code typed on it, one used the cafe name plus the word "cafe" as their code, and the third used their phone number.
here's a map from Starbucksto show you where a lot of their Wifi-enabled cafés are: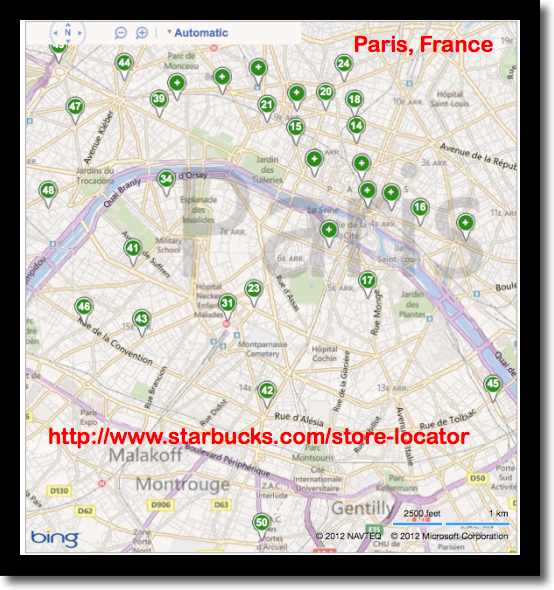 here is a list of wifi cafes by arrondissement (district)
please note that I have rarely had GOOD wifi in any McDonalds in Paris or Sydney — when I ask the staff why, I'm usually told "it's something to do with the internet" and "someone's going to look at it, but it's always been like this", so if you're desperate for wifi, perhaps try one of Paris' many parks or libraries first :-)
"What about using Wifi outside cafes and restaurants for my iPhone in Paris?"
The City of Paris has very generously provided for Wifi hotspots all over the city:
every PARK in Paris has Wifi – inside the park you'll see little Wifi logos about the place, that's potentially where the signal will be strongest
all government buildings and libraries have Wifi
again, look for the Wifi logo / sticker, or other people using laptops or iPads
go to the City of Paris Wifi map, and the Wifi buttons appear on your screen
zoom in & out (bottom right of map) and click a Wifi button for more information on the location
view a list of locations currently on the map by clicking the button in the top left of the map: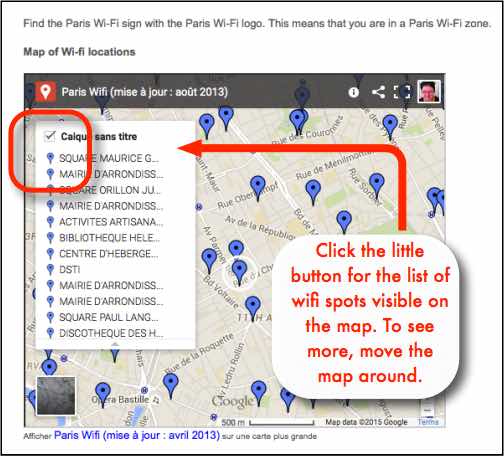 How to add a SIM card to your unlocked iPhone in Paris
First of all you need to understand that putting a different SIM card in your phone means that you will now be using a NEW/DIFFERENT phone number
a simple solution for your original phone number is to put a Voicemail message on there asking people to (a) email you or (b) give them the new number (and there will be international phone costs which will differ from phone carrier to phone carrier
you'll need an "unlocked" phone, which isn't as tricky as it sounds. You can contact your phone company before you leave your country. In Australia, if your phone and plan is with Optus, they will unlock it for free. If you're overseas and wish to unlock the iPhone, you'll need to contact the folks in Australia to do this for you.
find a local cellphone shop which sells SIM cards, phones etc, and they will be able to recommend a plan for you; one very helpful chap I found speaks English and could provide me with a SIM (for a very reasonable price) and suggested which Orange (phone company) 'recharge' plan to get for one month (he's located in 75002 – 2nd arrondissement).
If you really want to use your phone 24/7 and not have to find a Wifi hotspot, this is a great solution and not very expensive. The only drawback for some people is that you will have a different phone number for the duration of your visit – but at the same time you're avoiding exorbitant fees appearing on your home phone bill.
UPDATE 25th October 2012 – On my return to Australia and on receiving my very first iPhone bill, I was very relieved to see that no charges had been incurred (because I'd followed the instructions to avoid them) – phew!
Have fun with your iPhone in Paris! If you'd like to know my local phone guy, let me know – I'm happy to pass on his details.