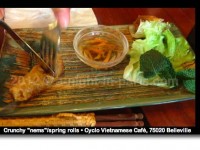 When I left home this morning, I didn't know I was going to find some where to eat Vietnamese for lunch.
The expected temperature was 29 degrees Celcius with rain predicted. As I stepped out the front door I was surprised that there was a gentle rain falling already, but pleased that it might keep things cool.
After vanishing into the depths of Strassbourg-St-Denis metro, and manouvering my way through the throngs of people, I eventually found my way to the platform for Line 9 heading in the direction of . One stop later I stepped off the underground train at Republique, and navigated to Line 11 in the direction of de Lilas; two short stops later I disembarked at Belleville, and began the long climb to the surface.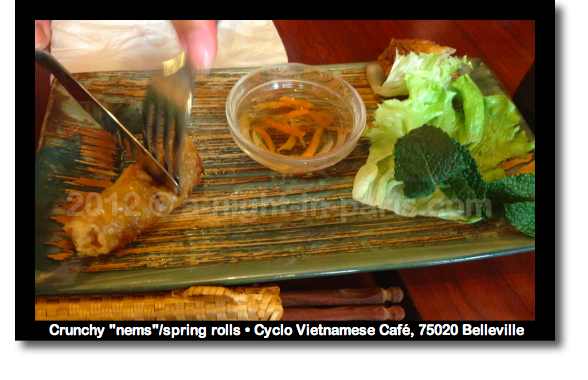 The temperature in the metro tunnels and on the train was unbearably hot and the humidity felt about 95%, everyone was feeling hot and bothered, perspiration dripping down everyone's face.
Tip! Don't get off the metro at Belleville – go one more stop to Pyrenee which is really close to the restaurant.
Using the Metro Exit 2 where I was to meet my friends, I quickly found some shade under a large tree close by.  I started thinking about air-conditioned stores in the tourist parts of Paris, and wondered how long the heatwave would last.
My friends Marlys and Leila arrived and we started walking up rue de Belleville in search of the Cyclo Café which Marlys was taking us to. We passed many stores selling Chinese groceries and homewares in tightly packed premises, a very nice boulangerie and epicerie which were quite a contrast from the surrounding buildings and shops. On the right hand side of the street, we came to number 78 and stepped into the cute little restaurant.
We found where to eat Vietnamese :-)
Although there was no airconditioning (and it wasn't really expected :-), it was cool inside and the waiter was very welcoming. There were chopsticks on the table housed in cute little bamboo holders, and the menu was small but everything sounded delicious.
For starters we ordered Nems (mini spring rolls, 4 in the serve) which were served with small lettuce cups. We each placed a spring roll in a lettuce cup and rolled them up – mmm yummy!
Our main courses came and mine looked fabulous – warm pork and noodles, shredded carrot on top and some lettuce on the side. Oh it was delicious and I enjoyed every mouthful!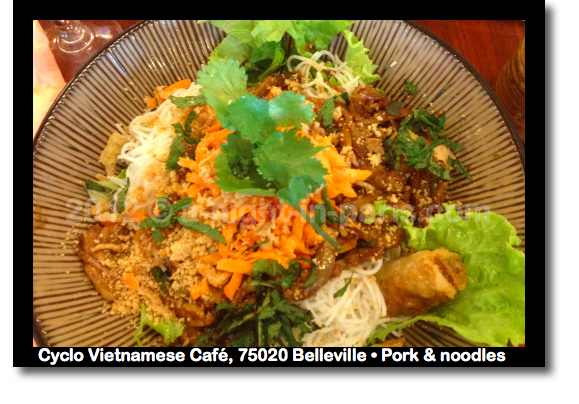 Whenever I have Asian food, I love to drink Jasmine tea, and today was no exception. It has a way of cooling me down on a hot day, and I had this phrase going through my head, "Mad dogs and Englishmen out in the midday sun."
After much catching up and laughing, we decided to have dessert as well – I chose the Creme Brulee with Mango, the perfect end to a great lunch.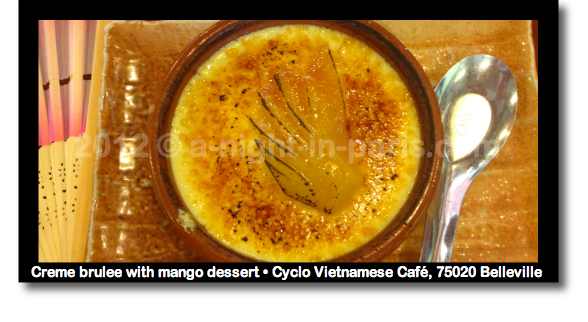 So if you're in the Belleville area or just feel like a great Vietnamese meal, head on over to Cyclo – let me know if you do :-)
Cyclo Vietnamese Café Restaurant
78 rue de Belleville
75020 Paris
Tel: +33 1 40 33 48 86
Metro: Pyrenée
If you're looking for other things to eat, check out some famous French food.
Where to eat Vietnamese in Belleville – Map
[mappress mapid="22″]
.