After eating French food and wines – Souffle!
Typical French food
When enjoying French food and wines, souffle desserts are an amazing little joy – so light and delicious, so wickedly French, and definitely something you should try in Paris.  Save room for dessert, or go out just for desert, and savour these delicious morsels – whether lemon, chocolate or any one of the many other flavors you will find.
Food of France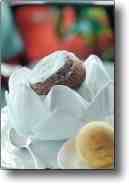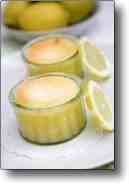 Souffles are delicious typical French food
Where did the word souffle come from?
The word soufflé is the past participle of the French verb souffler which means "to blow" [or to whistle].
How to make a souffle
Your soufflé will need to be baked in an oven, and must be light and fluffy.  The oven door should never be opened during cooking, or the souffle may 'fall'.
Souffles are made with egg yolks and beaten egg whites with other ingredients.  Generally served as a main savoury dish or as a sweet dessert.
Ingredients for a soufflé are simple — beaten egg whites and a quantity of flavoured cream sauce.
Common additions to the souffle recipe are cheese, banana, chocolate and lemon with liberal quanitites of sugar for the sweet souffles.
When taking your souffle out of the oven, it should look fluffy and voluminous, and will generally fall a little after 5-10 minutes.  The most traditional soufflé containers are known as ramekins which are typically small, white and round, or glass as shown in the photos above. More info can be found here:  http://en.wikipedia.org/wiki/Souffl%C3%A9
Looking for more French food and wines?
If this had made you hungry, check out the other pages of famous French food and wines >>