What to eat with French Food and Wines – Sandwiches
Easy French finger food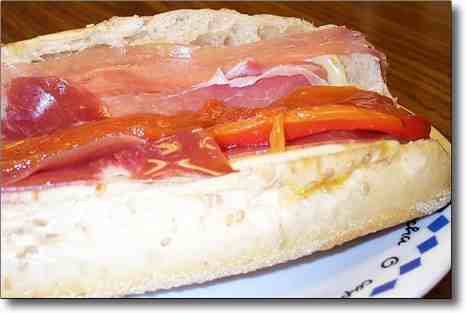 Thinking of French food and wines, sandwiches, lunches? Something easy to munch for lunch? A sandwich might not sound like typical French food, but it's certainly worthy of your consideration
When I first lived in Paris, I had a job where I didn't have to start until 1pm, so I'd take the Metro to Champs Elysées and swing by a very busy sandwich shop near work.
The crunchy piece of baguette with its soft centre, the delicious leg ham off the bone, the French cheese and cornichons … oh, I can almost taste it right now.  Never served with butter but with a lashing of mayonnaise, it was always a yummy lunchtime meal.

Want to find typical French food?
The great news is you can find little sandwich bars at the front of many cafes in Paris – already made, tantalising ingredients, and guaranteed to be fresh.
You might find pate, ham, saucisson [sausage], egg, mayonnaise, lettuce, tomato, cornichons and a whole range of other ingredients.
Expect to pay about 5 Euros, find a park bench or sit by the Seine, and enjoy.
Simple food of France : French food and wines and the sandwich – yum!
If you're looking for some of the other French food and wines I talk about on my site, pop over to the main page: