Time to eat French food and wines and crepes!
Easy French finger food
Ahhhhh French food and wines : crepes and champagne, what a terrific lunch!  One of my favourite easy lunches in Paris is crepes – delightfully light and fluffy, with either a sweet or savoury filling.  You can eat them as you walk along the boulevardes, or enjoy them in a cafe or restaurant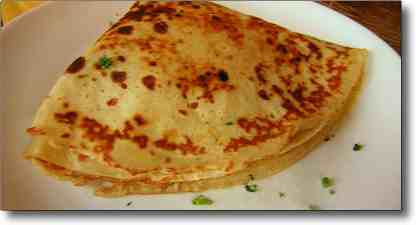 Crepes are readily available all over the world now, but years ago I  thought of crepes as famous French food [and no, I'm not a French person].  As easy to eat as any French finger food, the humble crepe is quick to cook [buy them from crepe stands everywhere] and very easy to eat without a plate or knife and fork.
Amongst all the French food and wines, crepes will probably remain in your memories of Paris, especially some of the more exotic ones. Me? I personally love the lemon and sugary ones :-)
Famous French food ingredients : the Crepe

The ingredients can vary from region to region, but generally include:
flour
eggs
milk
butter
a pinch of salt.
French crêpes are usually of two types: sweet and savoury
Sweet Crepes : Crêpes Sucrées
Sweet crêpes (crêpes sucrées) are made with wheat flour and lightly sweetened. Crêpes often have a fruit syrup filling, and can also have mixed seasonal berries, fresh fruit, or freshly squeezed lemon, a sprinkle of sugar and a dollop of cream. Yum!
Sweet Crepes : Crêpes Suzette
Probably one of the most well known of the French and Belgian crepes, Crepes Suzette are made of a crêpe with a hot sauce of caramelised sugar, orange juice, lightly grated orange peel and liqueur (Grand Marnier is the favourite) on top.  Once the crepe is ready it can be lit with a match to create a dramatic effect.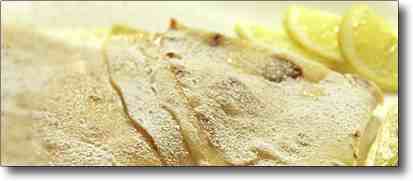 Savoury Crepes : Crêpes Salées
Commonly known as a galette, and generally made with buckwheat flour, an never sweetened, the crepes salees can be a filling lunch or dinner.  Some savoury fillings include cheese, spinach, asparagus, mushrooms, ham or a variety of meats.
Typical French Food History : the Crepe
Crêpes originate from Brittany, a region in France's northwest, and are enjoyed throughout France. Old rumours say that crêpes were started in this region because it was extremely difficult to grow enough wheat to make bread due to the poor quality of the land.
Where to find crepes in Paris?
Au p'tit Grec : Rue Mouffetard, 5th Arrondissement — Huge variety of very big and very filling crepes. All the usual fillings plus Nutella and Banana – you have to try it :-) Also try Cheese, Ham, Tomato and Egg crepes.
St. Germain des Pres and St. Michel — you'll find crepe stands everywhere, pretty good prices, around 5 Euro.
Cuilliere en Bois [Wooden Spoon] – 108 rue des Entrepreneurs, 85015,
Metro: Commerce (8) — A delightful restaurant with nice ambiance, great service and delicous crepes and galettes of all types. Highly recommend this one.