Enjoy French food and wines and Chateaubriand steak!
Typical French food? Yes, and no …
For French food and wines Chateaubriand has quite a long history.   Once upon a time, Monsieur François-René de Chateaubriand [1768-1848], a food enthusiast, coined the name of a cut of tenderloin – the Chateaubriand steak.  Now I have to tell you, I'd never had this cut of steak  until I moved to Paris — such a tender cut adorned with the most delicious sauce!
Also known as a filet mignon [small thick piece], it is a thick cut from the tenderloin.
Most restaurants in Paris where I ordered this meal prepare it for two people.  The Bernaise sauce is made from white wine and shallots mixed with butter, tarragon, and lemon juice, which may vary slightly from restaurant to restaurant.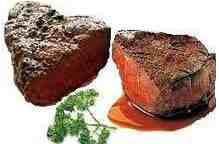 You might have seen the same cut of beef with other names:
in France:  tournedos or filet de bœuf.  (In France, the phrase "filet mignon" exists, but actually refers to a tender and expensive cut of pork.)
in England and US: can be called Medallions, or Tenderloin Steak
in England, UK and Ireland: can be called simply Fillet Steak.
So is this typical French food?  I guess it depends on your budget, the same as in any other country.  If you'd like to have one delicious dinner in a restaurant, consider the Chateaubriand, you won't regret it.
Famous French food : Cooking Chateaubriand

Ingredients for two people:
1 pound beef fillet,  5 to 6 inches in length, cut from the thickest part of the fillet
1 tablespoon of vegetable oil
salt
freshly ground black pepper
To prepare:  place the meat between two sheets of waxed paper or plastic wrap [Saranwrap or Gladwrap] and hit with the flat side of a meat hammer,  or roll by pressing heavily with a rolling pin to flatten to about 1-1/2 inches thick. Season with salt and pepper.
Heat the oil in a heavy frying pan over a medium heat. Place the meat in the hot pan and cook for 10 to 12 minutes in total, after turning over once.
Is it ready yet? Medium-rare meat will be slightly soft when pressed, medium will be springy and well-done will be firm to the touch.
When done to your liking, remove from heat and place the steak onto a wooden chopping board.  Let it rest 3-4 minutes, then slice in thin diagonal slices.  The cooking juices will run off the steak, so if you'd like, simply strain the juices and serve with the steak.
Accompany with sautéed potatoes, other vegetables of your choice and Bernaise sauce.
View some of the many other French food and wines I've written about on the Famous French Food page >>