"Where can I complain about Velib in Paris?" Michael of Ireland asks
I recently got over charge for using the bikes around paris.
I used it for 1 and half hours and got charged €8 euro and then €4 for my partner.
Do you have an email to make a complaint please.
Michael
of Ireland
Answer:
Hi there Michael,
Thanks for visiting my website!
I'm sorry you've had a problem with renting a bike to ride in Paris.
Here is the most recent website link to the Contact page for the Velib company – it's in French, but I'll add an image to help you fill it in:
I hope this helps.
Good luck,
Teena
Velib Office Hours and Contact page:
office open Monday to Friday 8:00am to 10:00pm
office open Saturday 9:00am to 10:00pm
office open Sundays and public holidays 9:00am to 7:00pm.
go to the Contact form:  https://www.velib-metropole.fr/crc
.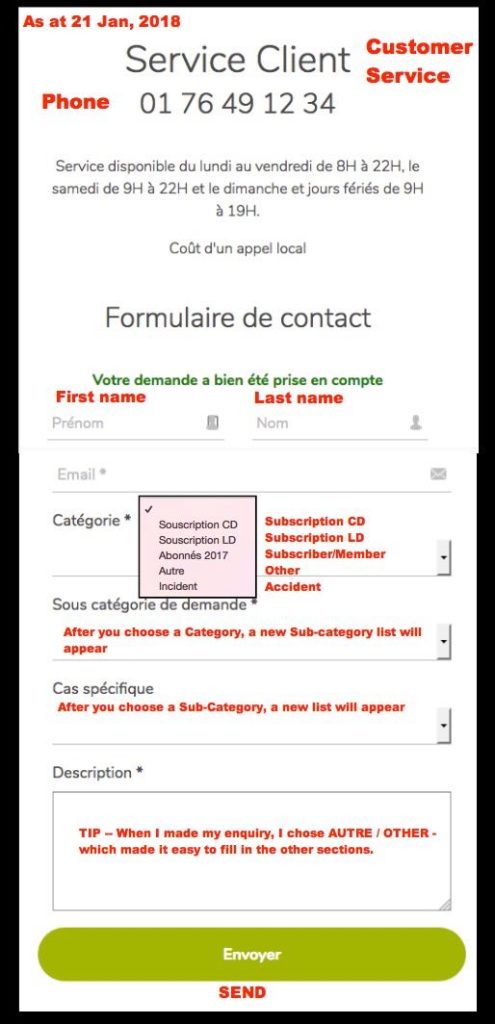 ---
How to contact Vélib in Paris (
updated January 2018

)

Their website in French is here: https://www.velib-metropole.fr/crc

Their Facebook page is :  https://www.facebook.com/Velib.Metropole

Their twitter is : https://twitter.com/Velib
---
Their phone, in France : 
01 76 49 12 34
---
Additional Steps to take:
make sure you have your receipts (either paper, or on a device like smartphone or tablet – iPhone, iPad etc)
take PHOTOS of your paper receipts, and email them to yourself for evidence (in case you lose them)
find the closest Tourist Information Office >>
tell them what has happened, and ask them to please help you contact the company direct to solve the issue
if necessary, contact your credit card company (or bank) and tell them there has been a problem with a particular company, and ask for their advice
ask whether you can put the payment "on hold" until the problem is "resolved".
When you have received advice from both your credit card company or bank, as well as the Tourist Information Office, you will be in a better position to deal with the problem.
Act on the problem straight away, don't leave it for weeks, as it's best to sort it out as quickly as possible.
---
If you'd like to complain because you've had a problem with a Velib in Paris
Just like in any other city, things can go wrong when you rent or hire a Velib in Paris.
Take photos of the the bike, the lock – everything – in case you need to present them to make your case.
If you have a problem with overcharging, contact them immediately.
Whatever you do,

DO NOT get angry

– be calm and provide exactly what they're asking for, and it should all get sorted to everyone's satisfaction.
Best of luck!
Teena Hughes
---
Getting Around : other Paris transport system options