Have you ever wanted to visit artist studios in Paris?
In September/October each year you can visit artist Studios in Paris.
This is known as PORTES OUVERTES ["Open Doors"], and visitors are encouraged to come to the ateliers [studios], see the artists at work, and chat chat about their techniques, inspiration etc.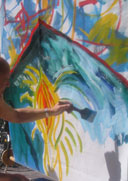 This is very cool!
Started by artists in Menilmontant, this is a wonderful initiative which allows the average person to see inside an art studio and understand some of the processes involved in creating different types of art.
If you're going to be in Paris and you're interested in art, this is something you should not miss.
The 'open doors' is well planned, with a detailed map of the artists participating in the neighbourhood, their exact locations and how to find them.
When: September/October each year
Where: In the vicinity of Menilmontant Street, in the 20th arrondissement
Website: http://AteliersDeMenilmontant.org (in French)

Paris Art Prints
While you're in Paris, take a walk along the Seine near Boulevarde Saint Michel [also called BoulMiche] and St Germain des Pres, and pick up some really inexpensive Paris art prints.  When you get them home you can frame them and have a little splash of Paris in your home.
Related links:
 Map of the 20th district – 75020 – where you can visit artist studios in Paris
[mappress mapid="12″]