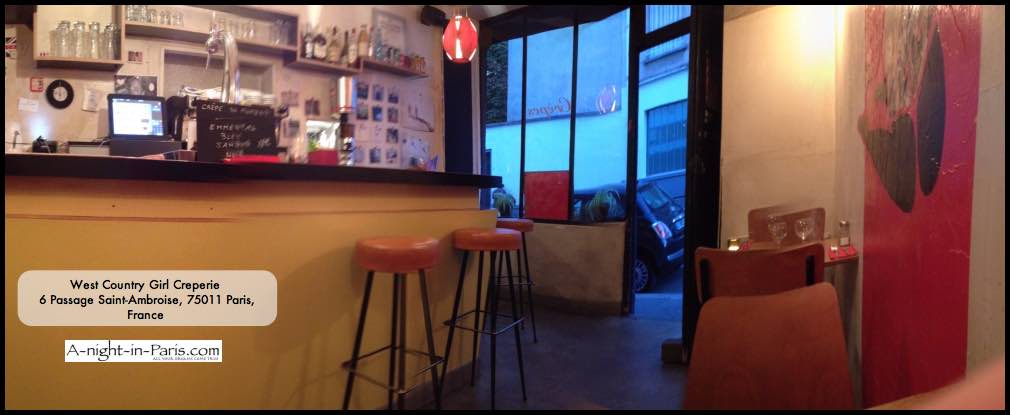 West Country Girl creperie is a local restaurant in Paris
There are so many great eateries in the 11th arrondissement, and I decided to try out this one for  dinner.
In a little side street called Passage Saint-Ambroise, this is the only foodie place in the entire street, making it easy to find. The menu is small, but boasts all quality local ingredients, and it looked very warm and inviting.
If you're nervous about speaking French, don't be — the servers also speak English :-)
I ordered a mixed salad (which generally means a green salad of lettuces and a dressing) for €3.
For a main course, I decided to try the Champignon, Chevre et ciboulette crepe, which is a Mushroom, creamy Goat's cheese and chives for around €8.
Normally crepes are served with cider, but this little resto has all kinds of alcohol available. I went with a traditional cider for €3 a glass, which was delicious — the choices were a sweet cider or a very, very dry one. After tasting the dry one, I opted for the more regular sweeter one – t turned out to be an excellent choice.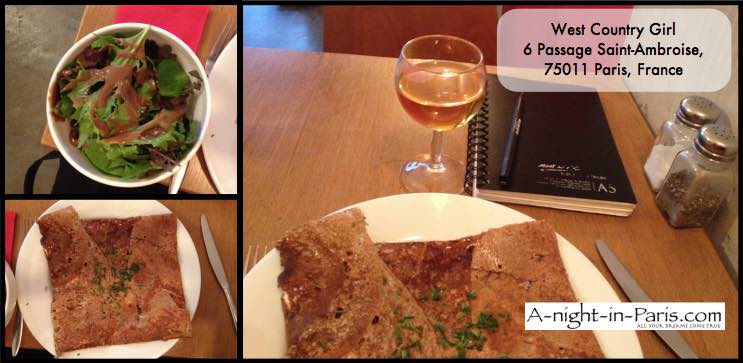 Everything was tasty, and perfect for a very light meal; you may need a few more crepes to fill you up for dinner :-)
Ambiance was great, lots of laughter from the guests, great music, terrific vibe. If you're in the area, it's worth a visit.
Cafe/Restaurant: West Country Girl
6 Passage Saint-Ambroise, 75011 Paris, France
Metro: Rue Saint-Maur / Saint-Ambroise