My new Paris Journal Notebook has been published!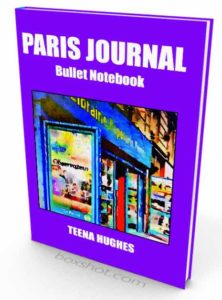 Great news! Over the years I've had a few people contact me and ask about travel journals, and I've finally  published the first one, and I'm thrilled to bits!
C'est vachement fantastique! (That's truly fantastic!)
In this first Paris Journal Notebook, the pages are formatted for Bullet Journal users who love tiny dots on the pages instead of lines.  The tiny dots help the users to sketch or write so that lines aren't necessary.
Whether you're travelling for business or pleasure, or just love the thought of Paris, this Journal is a great way to make notes, add sketches, or use your Bullet Journal skills to turn this into a book you can add to over time and treasure.
---
It's available on amazon right now if you'd like to check it out — click the book below and please do let me know if you have any questions, I'd love to hear from you!
.
.
If you'd like to find out more about bullet journals, here's a little video I found which might help explain it a bit.
What is a Bullet Journal?