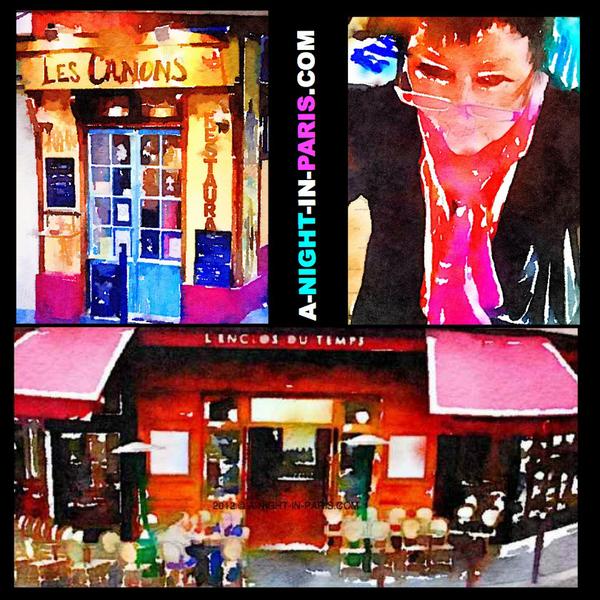 Welcome to Postcards from Paris December 2017!
How can it possibly be December? The past few weeks have flown by!
Hello hello — if you're new to Postcards from Paris — WELCOME!
My name is Teena Hughes, I'm an Australian who has lived in Paris several times over a period of about thirty years, and I love to go back once a year if possible, and spend about six weeks feeling like a local Parisienne again :-)
While I'm there, I catch up with my friends I met there over twenty years ago, plus I host Adventures.  I've also written a couple of books about Paris, and I love this city more than any other.
Enjoy the little French tidbits I have for you today, and do get in touch if you'd like to chat or ask a question. Here we go!
---
Want to meet up with me in Paris in July 2018??
I'm excited to tell you I've started planning my next trip to Paris – woohoo!
July 2018 sounds like a great plan — can you meet me there? I've got my fingers' crossed!
I'm deciding which Adventures I'll host and will post online soon — if you'd like to meet up with me for an Adventure, I'd love to hear from you!
Please send a Comment below, or click the purple icon on the right of this screen — and mention PARIS 2018 –let me know which Adventures sound perfect for you — thank you. Can't wait to meet you!
---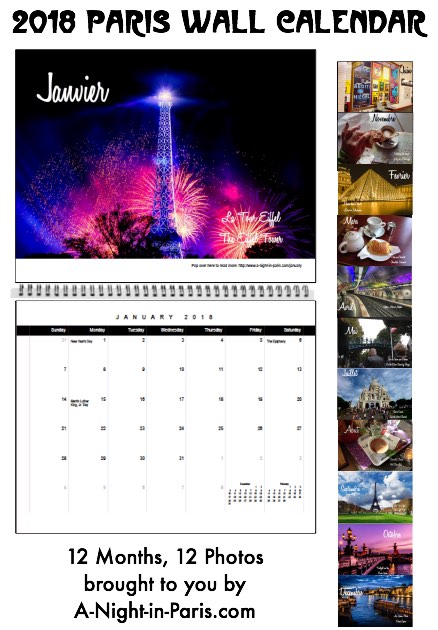 My first 2018 Paris Calendar has launched!
So excited! 12 pages with a great photo for each month — grab your copy here >>
I plan to create another one with different photos too — so stay tuned!
And for my Postcards from Paris subscribers, I'm sending you a freebie one-page Calendar too!
With love from me and a huge thanks for following along on my Paris adventures ax Just check your email :-)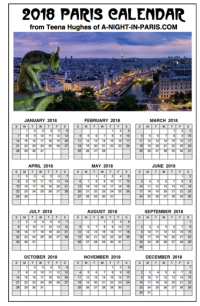 ---
Introducing the First Diary for A-Night-In-Paris.com — 2018 Diary
I've designed a 2018 Diary and I can't wait to get my copy in the post!
 each double-page spread is one week
each week has at least one of my own Paris photos
extra information about the 20 Arrondissements
extra tips and information about Paris.
I'll let you know as soon as it's available in the next few days! Woohoo!
---
.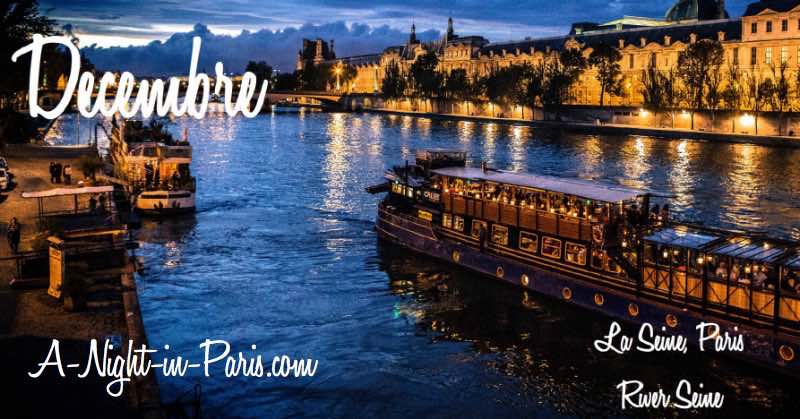 What's happening in Paris in December?
Need to do some shopping?
Want to see some gorgeous Christmas window displays in Paris?
For a truly fabulous New Year's Eve in Paris, head over to the Champs-Elysées on 31st December for the extravaganza light show!
---
Learning French:  Top 10 Words in French Everyday Slang (video)
Let me know which of these slang words you're going to try :-)
---
Will you be in Paris in time for the Christmas Markets?
I've written about Christmas and the Yuletide season a few times, and I'd like to share these stories with you:
Things happening in Paris over the Holidays
What about New Year's Eve in gai Paree?
---
Where to buy a pint of beer for 4 Euros or less in Paris?
---
Learning French: What happens in France for Christmas? (video)
.
---
Learning French: How to wish someone Merry Christmas in French (video)
.
.
---
From one of my favourite French singers – Julien ("Trudbol") – first a song in English:
It's Beginning To Look Like Christmas (A Cappella Barbershop Quartet) – Julien Neel
and now one in French:
Cantique de Noël (Minuit Chrétiens – French O Holy Night) – Julien Neel
If you like Julien's acapella music, you might like to hear more — if so, pop over to Trudbol's Youtube Channel >>
---
Recent Posts you may have missed
---
I hope you enjoyed this edition of Postcards from Paris December 2017!
Let me know if you have any questions about Paris or my website,  or just want to share some tips about your trip to Paris.
Post a Comment below, send me an email, or click the little "Say Bonjour!" tab on the right side of the screen, or pop over to the Facebook page — I'd love to hear from you!
Ciao ciao for now, a bientot ! Talk soon!


Teena
---
Not on the Postcards from Paris Mailing list?
Pop over and sign up so you don't miss out!

---