I love you my cabbage is translated from je t'aime, mon chou!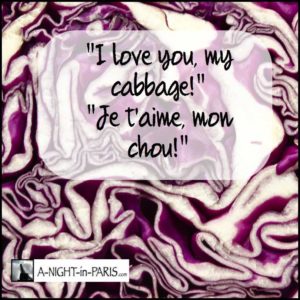 "Chou" is the French word for cabbage, and is pronounced as "shoo" — I love this little word and I use it a LOT!
"Choufleur" translates to cauliflower — chou + fleur (flower), and can also be used in many ways, not just for food.
"chou de Bruxelles" translates to Brussels sprout.
As an adjective "chou" can also mean gorgeous, adorable, lovely, cute, sweet, and is used as follows:
As a wonderfully delightful term of endearment, "Je t'aime, mon chou!" = "I love you, my gorgeous thing/person!"
"Mon petit chou!" translates to "My little cabbage!" meaning, "My gorgeous little thing/person!"
Interested in other French phrases? Pop over here >>
Want to chat with me about the French translation of "I love you my cabbage"?
Pop over to Facebook , Youtube or Twitter, or send me a message via this website — I'd love to hear from you!