It's Easter around the world, and I'd like to wish you a Happy Easter/Passover or Happy Celebration, wherever you may be..  At the moment I think about Paris every day, and as I plan my trip for June / July this year, I start to dream in French and when I wake up I'm VERY disappointed that I'm still in Sydney :-)
But then I look around my apartment at the photos of me in France with friends and students; at the posters and postcards on the walls around me, as I listen to French music cds.
I love Carla Bruni singing in French – I found a video of my favourite song "Quelqu'un m'a dit" – "Someone told me" – with the French lyrics. You can click on the little video on the right here to listen, if you like, while you read :-)
I realise that even though I'm not in Paris right now, my heart is always there … and that always makes me feel faaabulous,.
Update!  I should have been in Paris at the end of June, until the start of August, 2009 – teaching silk painting & hosting a Plus Size Fashion Week! – but my trip's been postponed until November 2009. Winter in Paris! How delicious!
For more info on either of these events, and to sign up, pop over to the Adventures page on my silk website.
So as I tried to recapture the French dream in my head, I popped over to my April in Paris page to read what's on at ths time of year, and then I've added a few fun things further down this page.
My sounds of Paris …
I was remembering one of my last days in Paris last year, and how I had a delicious lunch with friends and spent some time watching the passing parade of people while we listened to a little jazz group who set up right outside the restaurant … and I just remembered I'd actually taken a video in that restaurant , so I've uploaded it to YouTube it and here it is to give you a little taste of life in Paris. A hot summer's day, everyone's happy, life is great in this little slice of Paris and evryone's feeling the 'joie de vivre' (joy of life) – enjoy!
PS – you might need to turn down the volume on the restaurant video below!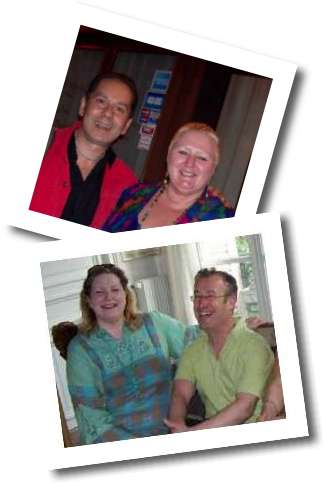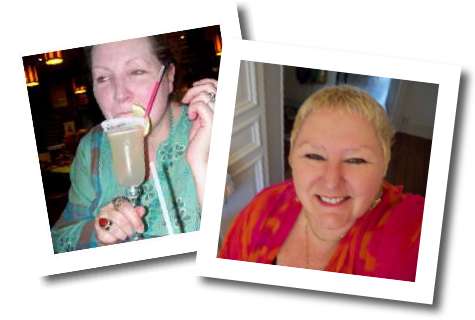 Above: Teena with Sigrun, Fred and Bruno – June 2008
Below you'll find a few other things which I thought you might find interesting … enjoy!
Comedians in Paris – in English

Do you like to laugh? Then the stand-up comedy nights in English might be just what you need to end off a fabulous day.

Where: La Java
105 rue du Faubourg du Temple, 75010

More information: 01 56 53 93 93

Grand Marché d'Art Contemporain / Grand Market of Contemporary Art

Where:  Place de la Bastille, 75004
When:  28 April – 3 May, 2009

More than 500 artists, 170 of whom will be exhibiting for the first time, are taking part in the 16th edition of this very popular art exhibition.  Exhibitors include sculptors (stone, bronze and ceramic), artists, photographers, painters and engravers.

Theme :  hands and feet.
Metro: Bastille or Quai de la Rapée (Lines 1,5 or 8)
Open: 11:00 to 2O:00 each day  |  Price:  8Euro

Free invitations can be downloaded at http://www.joel-garcia-organisation.fr

Weekend Discount Tickets on Public Transport for Teenagers

If you're going to be using the Paris metro/bus/tram/RER a lot in one day, you should be looking into the Mobilis card, which is good for unlimited travel – for one day only – either within Paris (1-2 zones, 5.80 Euro) or even out to the airports, Versailles and Disneyland  (1-5 zones 12.90 Euro). These prices are good for adults and kids, but on the weekends kids/young adults (under 26) can buy a "Ticket Jeune Weekend" for 3.20 Euro (1-3 zones) to 6.40 euro (1-5 zones).

For more info see http://www.ratp.info – Mobilis info is only in French, so I've used the Google translator so you can read it in English – but DON'T click the English button! You will be taken to the English part of the website and lose the Mobilis info.

RATP Tourist info in English:  http://www.ratp.info/touristes/index.php?langue=en

Where can I find the toilets/restrooms, please?

"Où se trouve les toilettes, s'il vous plait?"

If you like to be prepared in regard to where the public toilets are in Paris (and indeed throughout France), then you're in luck – there's a website :-) (PS – 'Acces Gratuit' means 'Free access'.)

Photo above © Parisit.com

Travelling with a sick laptop?

Nothing worse than arriving at your hotel in Paris and your computer doesn't work – yikes! Who can you contact????  I've emailed with these people and they're so friendly and helpful:

http://www.Parisit.com – Paris I.T. – they're available 7/7 from 9am-9pm

English & French spoken, Microsoft Certified – Repairs and Rental

Do you like to dance Tango and Salsa?

Want to check out Tango and Salsa events and classes while visiting Paris? These are the two best sites:

http://www.tango-argentin.net –  http://www.salsafrance.com

French speakers can call the Allo-Danse hotline for all the best dancing events in Paris on  08 92 70 50 25

http://danse-a-2.com is another great site which covers all kinds of dancing in Paris.
If you're off to Paris soon, I do hope you have a faaabulous time, remember to enjoy yourself and don't run yourself ragged trying to see every single tourist attraction :-)
You can always return to Paris another time, and if you're anything like me, you like to hang out in sidewalk cafés watching the world go by. Enjoy your holiday by feeling like a local – that's my best tip.
Would you like to read more Postcards from Paris newsletters?
Archives
2009
November
September
August
July
April
2008
December
November
October
May
March
2007
November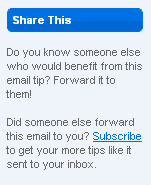 Did someone send you this link?
If you'd like to receive updates whenever I post these newsletter, please pop over to the Newsletter page and sign up – it's quick and easy!
Want to share this page with your friends?
If you think someone else might like to read these, please copy this link below, then email them so they can share my Postcards from Paris :
http://www.a-night-in-paris.com/postcards-from-paris-2009-april.html
I hope you've enjoyed these little tastes of life in Paris, so until next time, au revoir! a bientot! (Goodbye, see you soon!)

Teena Hughes