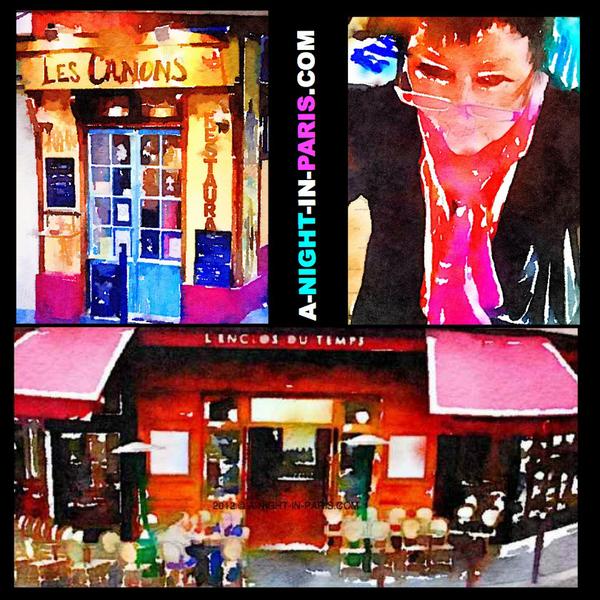 Welcome to Postcards from Paris June 2017!
If you're new to Postcards from Paris — WELCOME! My name is Teena Hughes, I'm an Australian who has lived in Paris several times, and I love to go back once a year and spend about six weeks feeling like a local Parisienne :-)  I catch up with my friends I met there over twenty years ago, plus I host Adventures.  I've also written a couple of books about Paris, and I love this city more than any other.
Enjoy the little French tidbits I have for you today, and do get in touch if you'd like to chat or ask a question. Here we go!
---
A Gift Just For You!
If you're on my mailing list, you will have received a free gift attached to today's email — a little "Thank You!" for wanting to have adventures in Paris, just like I do!
It's a PDF listing all the Paris Museums which have free entry on Sundays – a little Tip Sheet to carry with you on your Parisian adventures :-)
---
Travel Man Richard Ayoade spends 48 hours in Paris
I love UK comedians and I also love travel, so this video series really caught my attention – Richard Ayoade is quirky with a unique and dry sense of humour – enjoy!:
---
What's happening in Paris in June 2017?
Check out the list of July events in Paris:
---
.

11 Great things about Montmartre
"This most bohemian of Paris neighborhoods is known for its cobblestone streets, its village atmosphere, its nightlife, a big white church, and for the artists who found a home there more than a century ago. Up on a hill sits the former village of Montmartre, where narrow streets climb and bend their way up to Sacre Coeur, the big white church visible from most everywhere in Paris. Still famous for nightlife, it's at the foot of Montmartre you'll find Moulin Rouge and late-night bars."
I have many great memories of the Montmartre area over all my visits to Paris — it's a favourite! When I was in town and my friend Gaby was also in town from Mauritius, we always met up here for coffee and/or lunch before we spent hours combing through the textile and haberdashery stores.  It takes a special kind of friend to want to spend a day with textiles :-)
I recently came across a great article with eleven fabulous things to do in and around Montmartre, which I thought you might enjoy too:
---

Five Bars in Paris for English Speakers
Sometimes when you're travelling in a foreign country you can become exhausted by a foreign language, and even though French can sound romantic, it can be tiring trying to think and speak in French … when you're not used to it.
Here are some bars where you can speak with other English speakers – have fun!
Hemingway Bar, Hôtel Ritz
15, place Vendôme, 75001
Métro : Concorde (lignes 1,8 et 12) ou Madeleine (lignes 8, 12 et 14)
01 43 16 30 30
Open every day from 6:00pm to 2:00am in the morning
The Brooklyn
58 rue Quincampoix, 75004
Métro : Rambuteau (ligne 11), Châtelet-Les Halles (RER)
06 23 46 60 66
Open every day from 6:00pm to 2:00am in the morningm except Sunday
Wide Open Spaces (W.O.S) Bar
184 rue Saint-Jacques, 75005 Paris
Métro : Luxembourg (RER B), Cluny La-Sorbonne (ligne 10)
01 43 54 30 48
Open :
Monday to Thursday from 12:00 noon to 2:00am in the morning
on Friday from 12:00 noon to 5:00
on Saturday from 2:00pm to 5:00am
on Sunday from 2:00pm to 2:00am.
Red House
1 bis, rue de la Forge royale, 75011
Métro : Ledru-Rollin ou Faidherbe/Chaligny ( ligne 8)
01 43 67 06 43
Open every day from 5:00pm to 2:00am in the morning
The Highlander Scottish Pub
8, rue de Nevers, 75006
Métro : Pont Neuf (ligne 7), Saint-Michel (ligne 4)
07 61 74 47 89
Open every day from 3:00pm to 5:00am, starting at 12:00 noon on the weekend.
---
I hope you enjoyed Postcards from Paris June 2017 today!
Next month on the 14th July is BASTILLE DAY! This is a huge celebration for all French people, and in French is called Quatorze Juillet (14th July).
Let me know if you have any questions about Paris or my website,  or just want to share some tips about your trip to Paris.
Post a Comment below, or click the little "Say Bonjour!" tab on the right side of the screen, or pop over to the Facebook page — I'd love to hear from you!
Ciao ciao for now, a bientot !

Teena
---
Not on the Postcards from Paris Mailing list?
Pop over and sign up so you don't miss out!

---