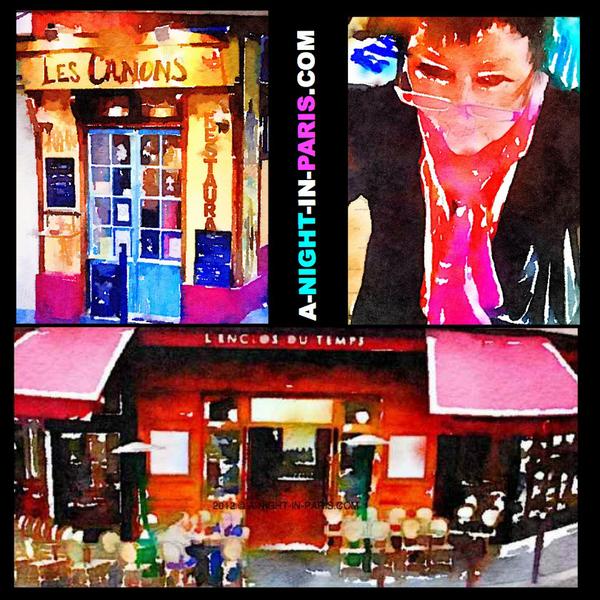 Welcome to Postcards from Paris July 2017!
If you're new to Postcards from Paris — WELCOME!
My name is Teena Hughes, I'm an Australian who has lived in Paris several times over a period of about thirty years, and I love to go back once a year if possible, and spend about six weeks feeling like a local Parisienne again :-)
While I'm there, I catch up with my friends I met there over twenty years ago, plus I host Adventures.  I've also written a couple of books about Paris, and I love this city more than any other.
Enjoy the little French tidbits I have for you today, and do get in touch if you'd like to chat or ask a question. Here we go!
---
What's happening in Paris in July?
Important! Warning! There is NO BASTILLE DAY in France!
And please don't say, "Happy Bastille Day" to a French person! Watch this video to find out why – Geraldine explains it so beautifully:
OK, now we've cleared that up, let's see what else is going on :-)
---
Check out the list of July events in Paris:
From 14th July to the amazing annual Tour de France cycling event, exhibitions, events, fun and laughter, July is filled with a ton of things to do and see as the weather is summery and fabulous!
he Paris Tourist Office has an excellent list of things to do in July, so pop over here and have a look:
And next month:
---
Airline Safety Videos
This one by British Airways is great!
---
Commemorating Quatorze Juillet • 14th July • the French Revolution
I wrote about this some time ago (pop over here to read more) — those of us who are NOT French, think this day is called Bastille Day, mostly because that's what we've heard in the media all our lives.
French folks NEVER call 14th July "Bastille Day", and it's not celebrated like Christmas or New Year.  It's a commemoration of an event.
The French Army played DAFT PUNK :-)
and Coldplay were live in the Paris Stadium on 15th July:
---
Best Coffee in Paris?

Would you like to vote?
Although I can't verify all of these, I'd love to have the opportunity on my next visit to Paris!
I must admit I love "Thank You My Deer" Cafe — I found it one day near my apartment in the 11th arrondissement, on my last trip to Paris, and I went back a LOT!
It's been a few years since I visited Coutume and Cafeoteque, and it will be nice to check them out again on my next visit.
---
Paris Plage (Paris Beaches)
What??!  A BEACH in Paris?? ARE YOU CRAZY?
Well – no :-) This is really "a thing" — Paris turns parts of the river Seine into a fabulous beach area with deckchairs etc, you've got to check it out if you're in Paris.
8th July to 3rd September — a visit to PARIS PLAGES (Paris' Beaches) along the River Seine is a MUST!
---
Where to find a shady retreat when it's summer in Paris, and hot?
There are a few hidden places where you can be far from the madding crowd,  from hotel bars to  gardens overflowing with flowers, and here are a few to check out:
Metro Plaisance — L'Entrepôt — Not on the tourist list, this arts centre and cinema has a great shady garden. Cocktails are delicious (€8), and a Sunday brunch is around €26 – well worth a visit
10th arrondissement – La Sardine – is in Place Sainte-Marthe, in Belleville and far from the crowds of tourists
Jardin du Musée de la Vie Romantique — This is one of Paris's secrets. This café adjoins the Musée de la Vie Romantique and is surrounded with beautiful roses and fuchsias, a lovely spot that feels far away from the crowds and noise.
Ménilmontant — a gorgeous shaded terrace can be found in La Bellevilloise — the ideal place to have brunch (and sometimes you'll get to listen to some live jazz – fabulous)
18th arrondissement — check out Kiez — a biergarten near Guy Môquet metro, and a perfect shady spot to try some German beer near Metro Saint-Georges
---
Questions You Should Not Ask a French Person
I love this video – so straightforward!
As an Australian, I've been asked similar questions and I would often shake my head in disbelief that a stranger would think it was OK to ask me these things.
What about you? Has this kind of thing happened to you too?
Scroll down to the Comments and tell me what happened, it's great to share when it helps us all learn something about a foreign culture — especially what we SHOULDN'T do or say :-)
---
Got some spare time? You might like to read previous Postcards from Paris
---
Before I go, I must share music from one of my favourite French singers, Julian Neel (Trudbol)
I love his barbershop quartets — he sings all the parts, and creates the videos!
Performed by Julien Neel
Music & lyrics by Edmund Goulding & Mack Gordon
— LYRICS
A small cafe, Mam'selle
A rendezvous, Mam'selle
The violins were warm and sweet
And so were you, Mam'selle
And as the night danced by, a kiss became a sigh
Your lovely eyes seemed to sparkle just like wine does
No heart ever yearned as much as mine does for you
And yet I know too well
Some day you'll say goodbye
Then violins will cry
And so will I, Mam'selle
---
I hope you enjoyed Postcards from Paris July 2017 today!
I'm disappointed I won't be in Paris in the next few months — I'm rearranging my next six months and may visit earlier in the New Year.
Let me know if you have any questions about Paris or my website,  or just want to share some tips about your trip to Paris.
Post a Comment below, or click the little "Say Bonjour!" tab on the right side of the screen, or pop over to the Facebook page — I'd love to hear from you!
Ciao ciao for now, a bientot !

Teena
---
Not on the Postcards from Paris Mailing list?
Pop over and sign up so you don't miss out!

---