Bonjour mes amis! Hello my friends of Postcards From Paris!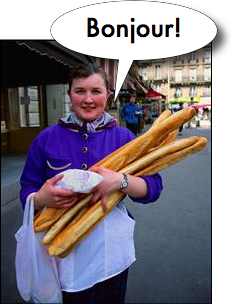 In just under six weeks I will be winging my way across the planet to fly from Brisbane, Australia to Paris, France — magnifique!
I can't wait to taste my first delicious croissant (or Pain au Chocolat!), see my friends, catch up with some of my Postcards from Paris followers, and make Paris my home for the next month :-)
The taste of the first baguette, first coffee, first time seeing the Eiffel Tower again — these and many others are what I crave when I'm not on Parisian soil, and I will savour each and every one of them.
If you haven't had a look at my Paris Adventures yet, you might be interested to see the new ones I've added this year — I'm sharing my love of some unusual things and I do hope those that sign up for them will enjoy them as much as I do :-)
Want to meet me in Paris? Check out these dates and let's catch up!
BOOK YOUR ADVENTURES IN PARIS TODAY!
More details from Youtube:
1 – 00:05 – Jardin alpin
Nestled in the heart of the Jardin des Plantes, the Alpine garden includes more than 2,000 mountain plant species .
Map : https://goo.gl/maps/ngNvu
2 – 00:15 – square des peupliers
This small private street ( no cars ) created in 1926 is an exquisite romantic and green place to take photos for a fashion shooting for example
Map : https://goo.gl/maps/qC1kU
3 – 00:25 – Terasse de l I.M.A
The Arab World Institute (IMA) is a Parisian cultural institute dedicated to the Arab world.
You can go for free on the rooftop and have an incredible view
Map : https://goo.gl/maps/zP50L
4 – 00:35 – les Passages Couverts
Real covered galleries in the middle of buildings and generally housing shops , Secret Parisian walkways are an architectural curiosity full of charm.
Map : https://goo.gl/maps/Nl96T
5 – 00:44 – Panthéon Boudique
The giant bamboos and stone slabs make of the Garden of the Buddhist Pantheon one of the most zen secret place of the capital .
Map : https://goo.gl/maps/LCp09
6 – 00:55 – Collèges des Bernardins
The collège was used until the French Revolution as a residence for Cistercian monks students at the University of Paris.
Map : https://goo.gl/maps/5VAg9
7 – 01:03 – Hôtel Dieu
Hotel-Dieu de Paris is the oldest hospital in the capital.
You can enter for free and climb at the last level to have a view over notre dame … but please be respectful of the people resting inside, it's still an hospital.
Map : https://goo.gl/maps/yxK9T
8 – 01:13 La Petite Ceinture
The little belt railway was a Parisian railway that, from 1852, was a circular connection between Paris's main railway stations. In a partial state of abandonment since 1934. Many French railway enthusiasts and associations would like to see the abandoned railway and its remaining stations preserved and protected as a part of France's national heritage.
Map : this place is all around Paris, and it's forbiden to enter so i will not give the information but if you really want to go just look on internet for « accès petite centure »
9 – 01:24 Jardin d'Agronomie Tropical
The Garden of Tropical Agriculture is in northeastern edge of the Bois de Vincennes. there you can find a half-wild nature and remnants buildings of the French colonial era sometimes half covered by vegetation.
Map : https://goo.gl/maps/eVXEb
10 – 01:34 Design & Nature
The Design and Nature gallery specialises in the creation of stuffed animals, in entomology (the science of butterflies and insects) and in osteology, as well as in the presentation of organic and vegetal species.
Map : https://goo.gl/maps/Py8v8
(Video by Stern Mathieu)
FINALLY! MY BOOK LAUNCH DATE IS NEARLY HERE!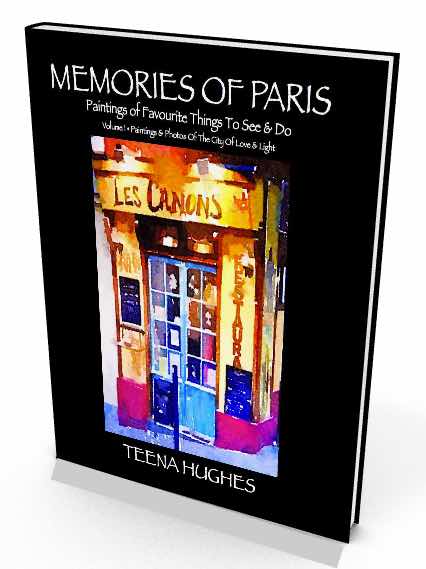 My first print book to be published on Amazon will be 'live' in August, maybe even as little as a week away!
I've talked about it over the past year, published a short Kindle book on Paris last year, but now I've finally finished my 42 page "Memories of Paris" book based on a selection of my photos which I've turned into watercolour paintings.
I'm just waiting for the first 'proof' copy to arrive in the post for me to approve, then it'll be available to the public — I can't express how happy this makes me, I'll be a published author sharing pix of my most favourite city in the world.
Because of my love of Paris, I created this website 8 years ago, and I've met the most amazing warm and funny folks through this site, people who send emails, tweets, Facebook messages, audio messages, Youtube and video messages — it is so lovely to share my love of Paris with others — thank you to each and every one of you! I'll keep you posted and send a quick update when it's on Amazon – woohoo!
What's on when in Paris in August?
visit the BEACH in Paris! Yes, that's right! "Paris Plage"!
Cinema en Plain Air [Open Air Cinema]
Paris Quartier d'Ete
What's on when I'm in Paris in September?
July and August are traditionally the hottest months, and many Parisians take off for the whole of August to be closer to the seaside and cooler weather. By deciding to be there for September, I'll be visiting at a lovely time of year, still summer but not too hot …
 Q & A • Question from Facebook
Here's my Paris page on Facebook : https://www.facebook.com/ANightInParisFrance

"Dear Teena, I am very concerned about the things I've read about the crime and pickpockets in Paris. Do you have any recommendations to try and avoid being victimized? Also we are taking the train in from Brussels. We get in at 10:30am but can't check in our hotel until 2pm. Would it be safe to store our luggage in a locker or would we be better off going to our hotel with our luggage? I'm really nervous about having my stuff stolen. K"
Let me see if I can put your mind at ease.
Your questions are all good and relevant — I suggest contacting your hotel and ask if you can bring your bags there first, most hotels have a secure storage area for arriving and departing guests. That way you know they'll be safe and then you only have one place to go back to after your first adventure.
In regard to pickpockets, don't wear anything on your back as that makes it easy in a crowd for someone to access your backpack while you're being jostled. Generally Paris is extremely safe and if you stick with other people as you walk you should be very safe. When you're eating or drinking, don't leave your wallet, handbag or smartphone on the table or bar, as that makes them easy targets. If you have a handbag or shoulder bag, wear it or carry it in front of you so you can always see it.
USE YOUR PHONE/CAMERA + ONLINE STORAGE
Using your smart phone or camera, take photos of your passport's relevant pages, and all cards in your wallet (backs and fronts) — upload them to secure storage like Dropbox.com for free, so you can access them easily from anywhere.
I love to see Paris from the water each time I arrive after my trip from Australia (where I live), so I take a 2.5 hr barge cruise for about $US30 (either morning or afternoon), and also I love the Champagne cruise at sunset to see the skyline, Eiffel Tower etc at night – beautiful! Here are links on my website for both of these:
A bit more expensive at about $80, but such a fabulous thing to do!
Apart from that, I just love to stroll the streets, sit in sidewalk cafes and restaurants, go to wine bars at night and meet the locals. With only two days, there's a chance you'll try to see TOO MANY tourist attractions so my advice is — don't. Only see one or two max, and spend the rest of the time being part of the Parisian culture.
I hope you have a simply marvellous time, do let me know how you get on!
---
 Q & A • Question from Facebook
"BonSoir! Love your fabulous blog and spicy ideas! I'm about to move to Paris again soon and i would like to find a job, if you know something feel free to let me know. Love and Happiness all over Merci :)))"
Bonjour! So lovely to get your message.
How exciting you're moving to Paris, woohoo!!!
I live in Australia, and visit Paris each year or two, so I'm sorry I don't personally know of any jobs for you right now — it will of course depend on many things — your age and your nationality (under 30s from some countries can work for a year), as well as whether or not you can work legally in France. But don't despair!
"Most of the Americans, Australians, Canadians and New Zealanders living and working in France fall into one of three categories:

They are married to a French (or another national of the European Union) citizen.
They inherited dual citizenship from their parents.
They are highly-skilled professionals sent to their company's French office to achieve a specific task.  France currently has working holiday agreements whereby Canadian, Australian and New Zealander citizens aged between 18 and 30 years can undertake paid employment for up to one year."
Doesn't sound promising, does it?
I have written a blog post or two about jobs, so here are a couple of pages I've written which might help:
Here are a couple of articles which might also help:
Best of luck! Let me know how you get on!!!
Teena!
---
French Movies I Can Recommend on DVD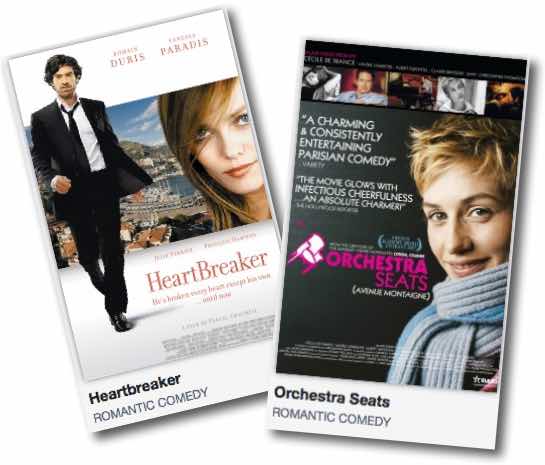 I watched both these movies this week and thoroughly enjoyed them both – read more >>
You should be able to find them on DVD, and if you do, let me know if you liked either of them :-)
---
 Q & A • Question from the website
 "Teena, what tips do you have for being organized for your arrival in Paris?"
Great question!
Here are some things I do:
research and book my flights a couple of months in advance if possible
research accommodation (I like to rent an entire apartment, so a studio apartment is perfect)
check out Google maps for the address where I'll be staying, search for things "close by" like cafes, restaurants, grocery stores, Metro stops, bus stops (I may even print off a page or two from the map so I have it with me for me first day in the new location)
organise a mobile phone — I bought one just to use in Paris about 5 years ago, so I take it with me, plug it in as soon as I arrive at my accommodation so it'll be charging straight away;  find a place to buy a "recharge" for the phone so I can start using it (generally Tabacs are a good place to start, or you can also find a store for the brand of phone card you're looking for)
book a pick-up from the airport to your hotel, which can be done online, print the receipt and have it in your wallet for when you land in Paris;  call the toll-free number once you've collected your bag, and tell the operator which Terminal you're at (there should be signs everywhere); now it's a waiting game until you mini van arrives. If this all sounds too slow, grab a taxi instead.
before I get on the plane to leave Australia, I turn off "roaming" on my iPhone (mobile phone) so I won't be socked with a huge bill on my return to Australia, (a) I will still be able to use my smart phone to access the internet whenever I am in a wifi (pronounced "wee-fee" in French) zone (see how easy it is to do this in Paris) just by walking into any park or government building, (b) I'll be able to make calls and send texts all over the planet for free by using the VIBER APP in a wifi zone when I'm out and about (I love love love this app!), (c) I also downloaded Viber onto my laptop, so I can type messages and make/receive phone calls via my computer when I'm back at the apartment
once I've arrived, I take a photo of my building from the street (if it's the first time I've been there), then I take a photo at the corner of the street so it'll be easy to recognise on my way back;  if I then take a bus or the Metro (train) I take photos of the bus stop or Metro sign so I can remember HOW to get back home later that day
after my first Parisian breakfast in a cafe, I head to the nearest Metro (train station) and buy a "carnet" of tickets (pronounced KAH-NAY) — ten tickets is a good place to start unless I want to get a monthly ticket. More info will be available at the Metro so read and work out which is best for your needs.
next I like to visit the nearest Post Office to buy some stamps, so that when I'm whiling away the hours people-watching in a cafe I'll have some stamps to put on those postcards I've just purchased.
Here's a little video I made about PLANNING A TRIP TO PARS :
All of this gets me into my "Frenchified Teena" mode :-)
---
Do you have anything you do when you first arrive in Paris (if you've already been), or something you'd LOVE to do if you visit in the future? I'd love to hear from you — if you received my Postcards from Paris newsletter via email, just click REPLY. If you're reading this on my website, just post a Comment below :-)
Would you like to recommend any cafes or restaurants, or things for me to do? Feel free to share! One of my long time readers – Michael (from USA) – has sent me some wonderful suggestions and restaurants to check out, as have a couple of other folks, so do please send them along!
NOT ON MY MAILIMG LIST YET? CLICK HERE >>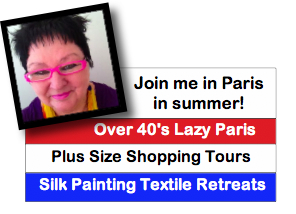 A bientot! See you soon in gay Paree!
Cheerio for now
Teena
MEET ME IN PARIS IN SEPTEMBER 2015!
One last video to whet your whistle about Postcards from Paris