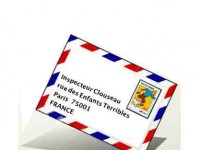 postcards from Paris

 

with Teena Hughes   |  december 2013 video newsletter
Bonjour and Welcome to today's Postcards from Paris!
Hi – this is Teena Hughes, and here's my Christmas message – click to play!
Teena's Christmas Message
[display_podcast]
"Joyeux Noel! Bonne Annee!" – Merry Christmas and Happy New Year!
I haven't made a video this month, but I have some others I'd like to share with you- this is one of the last ones I made in Paris on my last trip, in my local cafe early in the morning savoring a coffee and croissant – yum!
This video shows you how to use a foreign laptop plug when staying in my favourite city :-)
I've found some great videos online to get you in the Christmas mood – ready to jump right in?
This is a cute little video for the kids – a popular French Christmas carol – I dare you to try not to smile :-)
This one is Christmas carols for grownups sung in French  – I do hope you like it:
If you wish you were shopping in the beautifu stores of Paris, here's a video showing shoppers doing their Christmas shopping in the Galieries Lafayette this year – the window displays are so cool! :
This video was taken last month at an ice skating rink at the Christmas Markets — oooooooh I wish I was there :-)
The Christimas lights on the Champs Elysees look amazing – the energy saver Light Rings on the trees which line the promenade are very cool:
Did you like those videos?  I love watching different videos about Paris throughout the year to keep me in a French frame of mind.
What's on in Paris in December & January?
There is so much to do in Paris even though it's mid-winter, and simply walking the streets and absorbing the history is a great thing to do — and then stop and have some hot roasted chestnuts from a street stall, and explore some more until you find a Crepe stand to buy Nutella Crepes or my favourite – Lemon and Sugar – yum!
Here are some more tips of things to get up to:
And don't forget Disneyland Paris ! Here is a recent video taken at night – now this puts me in the holiday mood :-) :
It's been many years since I spent Christmas in Paris – about 16 or 17 I think – and it was always a magical time.
The important thing for visitors to remember is the WEATHER — wear WATERPROOF warm shoes, thermal underwear and socks, gloves, hats and scarves to keep the cold air out from your warm clothing.
The second most important thing to remember is … HAVE A FANTASTIC HOLIDAY and enjoy yourself!!
Postcards from Paris Related Links
Calendar of Events > Christmas in Paris > Christmas Lunch | December | Lights/Noel | Christmas Markets | Shopping