Postcards from Paris Video Newsletter
January 2012
Ahhhhh it's that time of year when I'm ready to buy my airplane ticket so I can go and buy postcards from Paris – in person! Woohoo! Here is this week's video newsletter:
postcards from Paris

from Teena Hughes   |  January 2012 video newsletter
Happy New Year!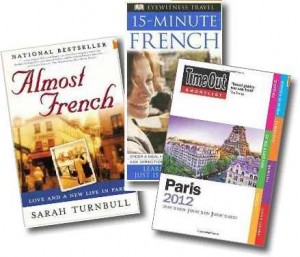 Merry Christmas! Happy Holidays! Happy New Year!
Teena here, hoping you're having a superb holiday season, and like me your mind might be thinking of Paris … I hope so!
I'm just about to book my ticket to go to Paris in June, so I'm absorbing myself in the culture by reading some great books about Paris, some of which were Christmas gifts – woohoo!
Check out the books I'm reading:
if you've read any great books about Paris you'd like to recommend and/or write a little blurb about, do let me know and I'll add them to my site – thanks in advance!
Join me in Paris?? I'll be there in June/July 2012 and would love it if you came along on one of my Adventures!!
A Year in Paris, month by month!

I've created a fabulous page for my Postcards from Paris Subscribersto print out, and I had so much fun preparing it! It's in PDF (Portable Document Format) which means that everyone with a computer can view it, and it's attached to the Newsletter email.

Read the Paris Calendar online

if you'd like a copy of the PDF, please subscribe, then email me and let me know, and I'll send it to you:

The first page is a list of all the months of the year showing the major events in Paris.

You'll be able to print this out and take it with you on your trip.

The second page is a list of all the internet links for the events – which will be clickable when opened on your computer device or smart-phone, to take you straight to the info you'd like to read.

If you're one of my subscribers and you don't have Adobe Acrobat installed to be able to view the document, pop over to http://Adobe.com and download – it's a freebie :-)
Today's Useful French

Watch today's video to hear the pronunciation for these French words and phrases:

Hello. Bonjour.

My name is Teena. Je m'appelle Teena.

Lovely to meet you. Enchanté.

Goodbye. Au revoir.

See you soon. A bientôt.

See you tomorrow. A demain.

Thank you very much. Merci beaucoup.
Links for you

Here are links mentioned in today's video:

The Paris Calendar online

Decorative Arts Museum – one of my favourites!

January in Paris

Next time

How to type French characters on your computer
Until next time! A bientôt!

That's it for today, I look forward to chatting with you on Twitter and Facebook, and please do post a comment on the website – it'd be so nice to hear from you.

Like the new Newsletter style or new website format? I'd love to know what you think!

Teena Hughes
You might also like to view the Postcards from Paris Archives.
Tags: 2012, france, French words and phrases, happy new year, january, paris, postcards from paris, video newsletter
What's On In Paris While You're Visiting
Paris, France Categories