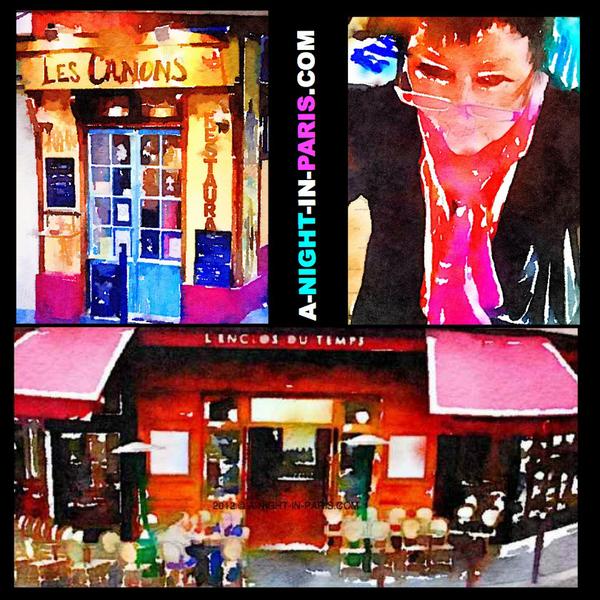 It's a beautiful day in Paris today! I'll be heading out shortly for the wonderful Barge Cruise which I love to experience each time I'm in Paris — it takes 2.5 hours, and there is a choice of morning or afternoon, so I've decided on the 2:30pm Cruise to show my client another side of Paris in a leisurely, relaxed way – woohoo!
I've been having an amazing time with my client these past few days, she has flown half way round the world to be part of one of my Adventures, and we've been having the best time!
Coming to a foreign country where you don't speak the language can feel like a very large, nervous step to take, but once you're in Paris, you'll find so many French people who will speak English withyou. that you'll feel at home in no time :-)
---
If you use Facebook, you might like to pop over and see what I've been posting — photos and videos!
Check out my photos and videos on Facebook! >>
If you're not a Facebook person, here's a quick snapshot for you: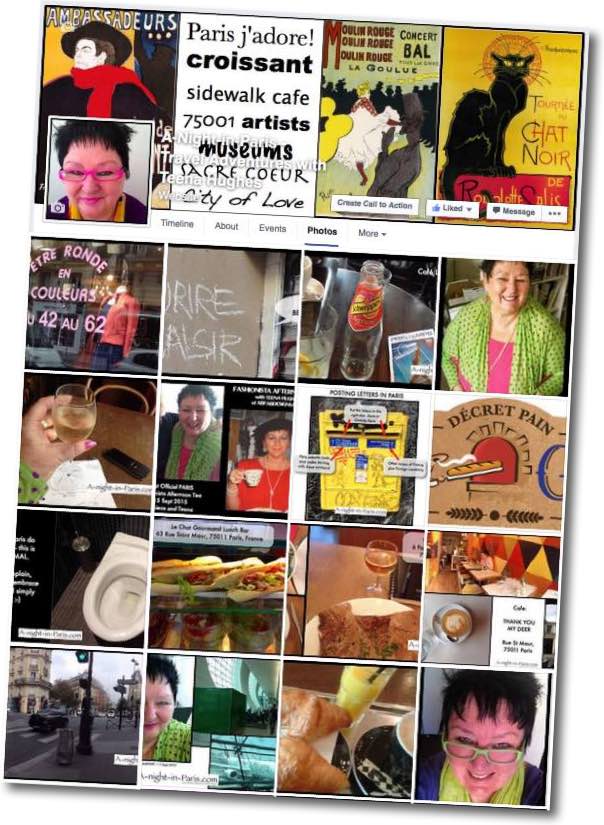 ---
I've also been making some videos, so here is one to watch while I upload the others :-)
---
Here are some little articles I've written since I've arrived in Paris:
---
Questions about Paris for September 2015
"Teena, what's the weather been like?"
Great question! I usually visit in summer so I wasn't sure  how quickly it would turn to autumn, and I've been pleasantly surprised:
I have not worn a coat
I have worn scarves every day, and if I get too warm in a store or cafe, I simply remove the scarf
I have mostly worn one long-sleeve item each day, and I haven't needed multiple layers of long sleeves … yet!
I have worn either short-sleeved or sleeveless tops under my long-sleeved top
temperatures have been around 18-20degC during the day
I have used my umbrella a few times, and it's a very small fold-up one so it stays in a plastic bag inside my handbag;  so if it's wet, and I go into a cafe etc, I can put it in the plastic bag and NOT leave it behind when I leave :-)
"Teena, what's different since the last time you were there?"
There's a tram! It's been here about two years and works around the outskirts (the "peripherique"/periphery) of Paris.
So many people want to speak English! Waiters, staff in stores, EVERYwhere! No more excuses about French people not speaking English, dust off your passport and suitcase and come on over :-)
In the past two weeks I have met so many kind, helpful, wonderful French people that it's almost overwhelming! From taxi drivers (Bonjour Bernard!), to waiters and waitresses, sales people in stores of all kinds (Bonjour Ariella, Silvina, Marion, Warda!) , people on the street who answer my questions, a gorgeous woman I met at a bus stop when the buses were running hours late (because of a "manifestation" / public strike) who had a drink with me and my client while we all waited in a local cafe (BONJOUR CHRISTINE!)
There will be lots more things to add to this list, but that'll do for a Sunday morning when I haven't had coffee yet!
---
Here is one of my favourite travel videos to keep you smiling :-)
A fantastic in-flight one from Virgin:
---
I'm heading to the Barge Cruise very soon, so I'll say AU REVOIR and CHEERIO for now :-)
GOT QUESTIONS?? SEND ME A MESSAGE! LET ME KNOW :-) >>
ciao ciao for now,
Teena!
Intrepid Traveller visiting Paris from Australia!
---
Not on the Postcards from Paris Mailing list?
Pop over there now and sign up so you don't miss out!