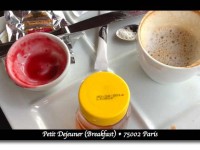 There are several ways to have petit dejeuner in Paris (that's "breakfast" for us English speakers):
you could pop out and buy croissants and baguettes to bring home to have with your tea or coffee
or you could visit any of Paris' cafés and have petit dejeuner there.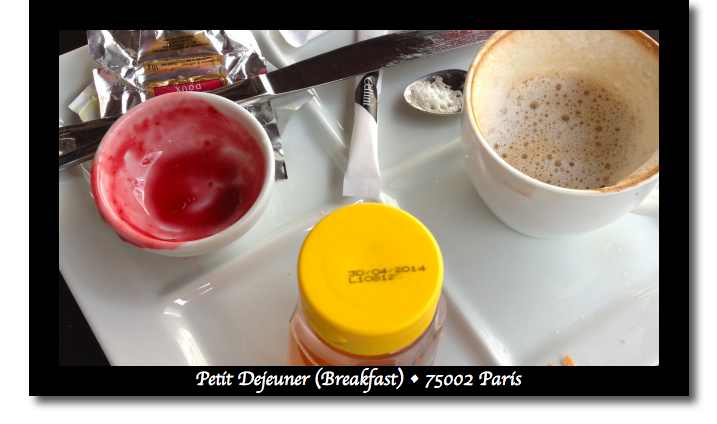 Two different prices for Petit Dejeuner in Paris
Standing at the café's counter to have breakfast will always be less expensive than sitting at a table, and is perfect if you're short on time. For the breakfast below I pay 4,80 euro, and I've seen the exact same in the tourist areas for 10 to 14 euro, so it pays to walk one or two streets away from the main tourist streets and find something a little less expensive if you're on a budget. This also applies to cold drinks (like Coca Cola) and hot drinks (like tea, coffee and hot chocolate), and of course meals.
Petit Dejeuner prices vary greatly between cafés and districts
While I've been walking around the city on this trip, I've paid a lot more notice to the prices being asked for petit dejeuner in Paris.
I'm staying in a less-than-touristy area in the 2nd arrondissement, and have tried out a handful of cafés but keep coming back to the Faubourg on the corner of rue du Faubourg Saint-Denis & rue du Metz.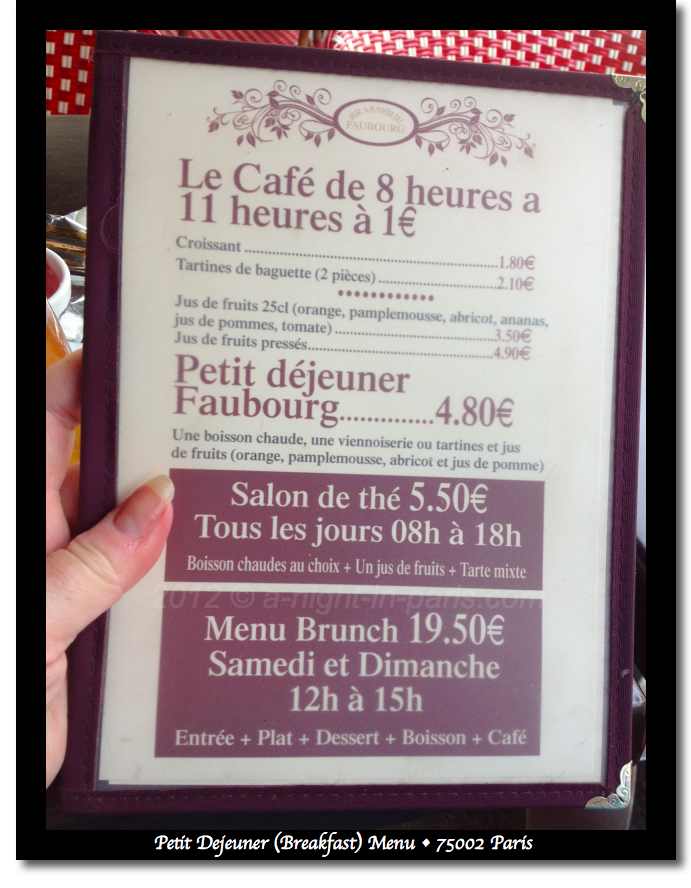 Above:  the Petit Dejeuner Menu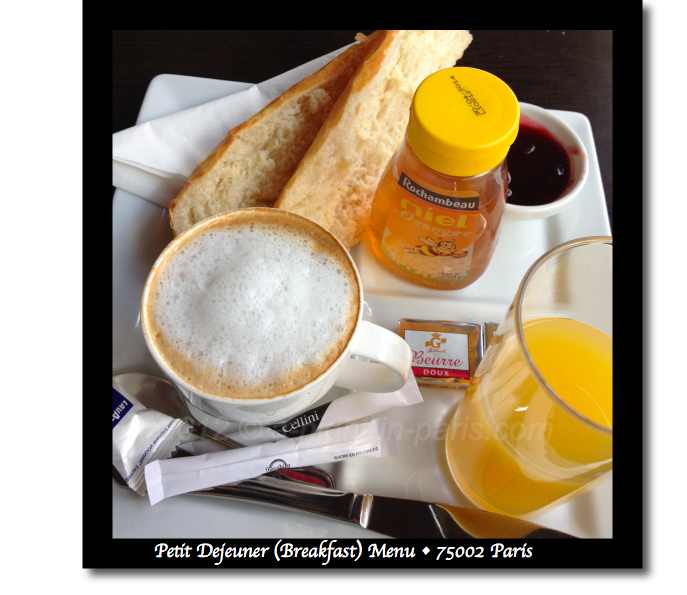 Above:  the Petit Dejeuner has arrived!
Included in the breakfast was a hot drink of my choice (tea, coffee, hot chocolate), fruit juice (not freshly squeezed, but from a bottle), pastry of my choice (one croissant, pain au chocolat etc) or "tartine" (piece of baguette with butter and jam and/or honey), and a little chocolate.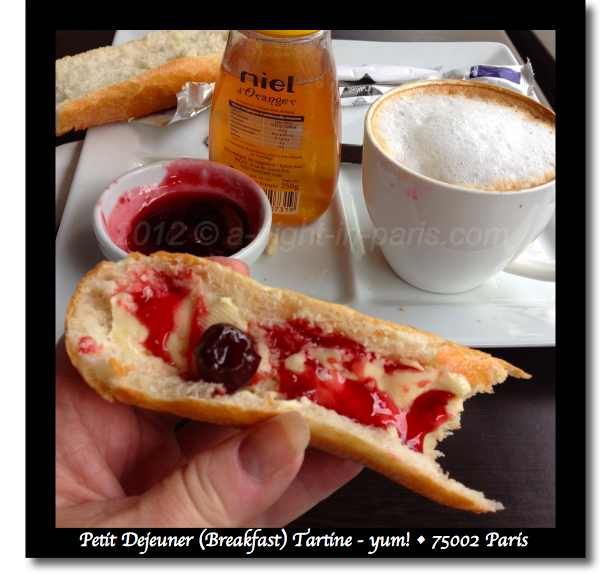 Above:  Mmmmm – delicous!
I'm always happy to sit in this café and watch the busy business people, the delivery vans, while listening to the school children in the school in rue du Metz. It's a colourful array of people and a hive of activity, which I do enjoy.
To get the best value for your money, check out several different cafes to see what's on offer. They may be very similar, so see if you can see what others have ordered and if it looks good. At this price you can't go wrong :-) Enjoy yourself in Paris!!
Map to my favourite local café for petit dejeuner in Paris
[mappress mapid="25″]
Café Faubourg
cnr of rue du Faubourg Saint-Denis & rue du Metz
75010 Paris
Metro: Strassbourg St-Denis / Bonne Nouvelle