Paris public transport system is great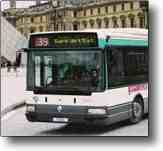 Paris transport bus systems are easy to use and get around.
I found Paris transport bus stops everywhere, are easy to find, and so easy to understand.
When I first started catching the bus in Paris, I was pretty terrified I'd miss the stop, or I wouldn't recognise where I was when I looked out the window, and it was extremely nerve-wracking.
I then started to notice the two best things about buses in Paris [which should be duplicated in bus systems all over the world … in my humble opinion … if they're not already].
Best bus thing #1
Along the centre of the bus and suspended from the roof, I found a map for the bus route of the bus on which I was travelling. It took me a while to work out what it meant, but once I figured it out I felt MUCH better :-) and I travelled safely without worrying about where I was.
I could look at the simplified map and recognise street names, or bus stop names which matched streets etc, and then the mystery disappeared.
Now I was happy to take buses all over the place.
Oh – almost forgot! Best bus thing #2
… was a clock placed at the front of the bus so everyone could see it — what a wonderful thing. Why don't they do this in other cities around the world? Beats me :-)
Getting around Paris by bus
The RATP website is your one-stop spot for all info regarding métro, buses, and trains outside Paris – http://ratp.fr.
Click the little English flag in the top right to read the site in English.
Now click the GETTING AROUND button to work out how to get from Point A to Point B.
On the site you'll find a form where you can put in your 'from" and "to" locations, which method of transport you prefer, and a few other things, and you get the best instructions, directions and locations.
As an added bonus you can also find info on eating out, hiring Velib bikes, and even info on latest movies. If you have access to the internet this will be one bookmark you'll keep.
Paris after hours bus service – the Noctilien

There's nothing worse than being out late, having fun, and then not being able to get back home.
Taxis might be rare, but if you knew about the night bus service – the Noctilien – you wouldn't have to worry at all.
Would you like to ask about or recommend great ways of getting around in Paris?
Please post your comment or question about the Paris transport bus system in the Comments below – many thanks indeed!