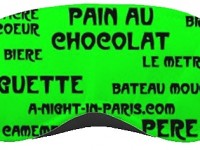 It's slumber time with a Paris sleep mask
I couldn't resist having these on my Paris website – everyone needs a sleep mask when they travel, and it's not navy, black or brown so it won't get lost :-)
To be honest, you don't even need to travel to wear one of these – you can pretend you're in Paris while you're at home, put on some French music, get comfy, pop on your Paris sleep mask and let the lovely music massage your brain into sleeping. Dors bien! Sleep well!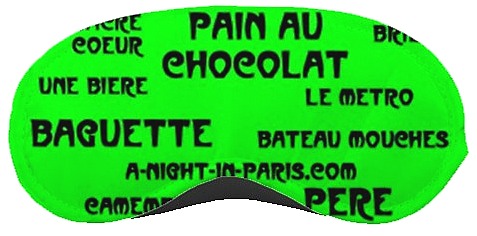 Paris Sleep Mask $US10.99 + Shipping $US4.00
Black nose piece to limit the amount of light which tries to sneak under the mask
Comfy elastic strap to hold it in place
One size fits all
Machine washable
Dimensions (approx): 7.25" x 3.5"
Lime green with French words
---
**Please note payments will appear as 'Abfab' or 'Absolutely' on your credit cards and receipts.
Questions about the Paris sleep mask?
Please let me know asap and I'll do my best to help you, thanks! Back to my Paris Store >>