January 2011 — Unfortunately Le Ptit Manger has closed down :-(
On a trips to Paris in 2008 I rented an apartment in the 11th district right at the Metro Voltaire – a fabulous little area and I'll certainly be staying there again. One morning when I came out of the apartment building I noticed one of the cutest little Paris restaurants Le Ptit Manger – right where Rue Voltaire met rue Richard Lenoir.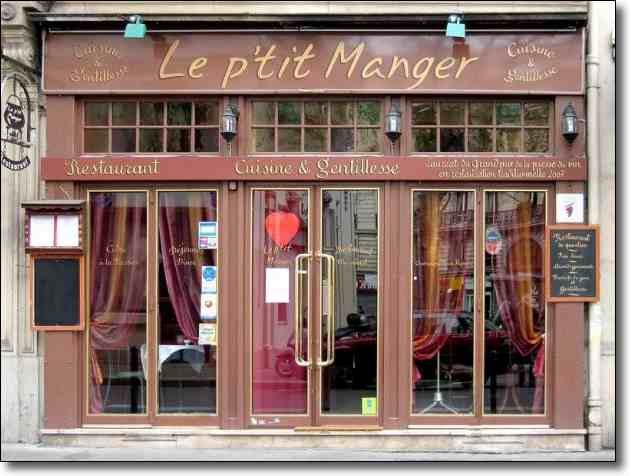 My curiosity was piqued, so I strolled over to read the menu, and was tickled pink to see the sign, "Cuisine et Gentillesse", which really made me smile – it literally translates to "cooking and kindness".
The sign also boasted good prices, fresh produce, friendliness and great cuisine, so I popped in to make a reservation for that evening.
The Maitre d' (who is also the owner, Joel) was very friendly, spoke English and accepted my reservation for a table for 5 people, for 8pm that night.
We all arrived on time, had a fabulous time, and were not disappointed – the food was excellent, wine superb (we had the Chateau Neuf du Pape), charming service and the ambience was delightful.
A few weeks later on our last night in Paris (June 2008), we decided to spend our last evening having a celebratory Farewell Dinner at Le P'tit Manger. There was anew daily menu, everything was excellent and I highly recommend this gorgeous little restaurant to people who want to avoid they typical tourist locations. If you'd like h to find delicious meals at an amazing price of 18 euros for the fixed price menu, then you simply must visit Joel.
I give this 5/5 stars
Le P'tit Manger
51 Rue Richard Lenoir
75011 Paris
Tel: 01 43 79 09 60
métro Voltaire (ligne/line 9)
Bus : 46: 56: 61: 69
http://www.leptitmanger.com >> website no longer works :-(
Want to give your own review on Paris restaurants Le Ptit Manger?
If you'd like to provide a tip, or tell a story of your visit to Paris, please click the ADD A COMMENT link below – thanks! For info on where to eat in Paris, check out these brasseries.