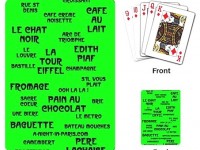 Pack of Playing Cards for your holiday?
Whether you're going on holidays overseas or interstate, a pack of playing cards is always a great thing to bring with you.
This deck has 54 cards, with my design on their back – French words and phrases which make me think of being in Paris.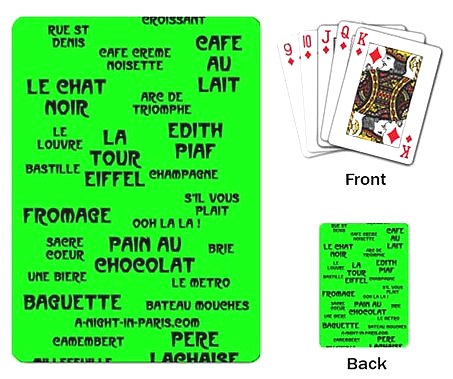 I also found a font (typeface) which reminds me the art deco Metro signs in Paris – what do you think? Does it look ok to you?
Pack of playing cards: $US12.00 + Shipping $4.00
---
**Please note payments will appear as 'Abfab' or 'Absolutely' on your credit cards and receipts.
Questions about my gorgeous Paris pack of playing cards?
Please let me know asap and I'll do my best to help you, thanks! Back to my Paris Store >>
Tags: france, french words, lime green, Pack of Playing Cards, paris
What's On In Paris While You're Visiting
Paris, France Categories