Google Map of Paris France
Districts/Arrondissements > 1 > 2 > 3 > 4 > 5 > 6 > 7 > 8 > 9 > 10 > 11 > 12 > Google  Map of Paris France > Paris metro map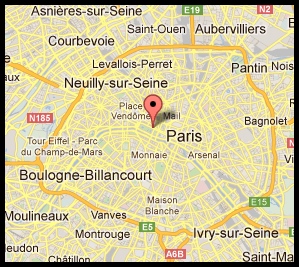 Here is a fabulous Google map of Paris, which gives you a bit of an idea where Paris is. In the top left corner of the map, you will see some little arrows and a PLUS and MINUS sign.
Click the PLUS sign to ZOOM IN for a closer view of the streets etc.
Click the MINUS sign to ZOOM OUT for a country view.
In the top right corner of the map you will also see:  Map, Hybrid and Satellite – click each one to get a different map of Paris France, from buildings to bird's eye view :-)
You might also want to look at the 20 different arrondissements (districts) of Paris, with details of what can be found in each area (you can also see them listed in the mini menu above).
[mappress mapid="3″]
I love Paris for so many reasons, one of which is because you'll find getting around in Paris is so easy!
Once you zoom in a bit (by clicking the PLUS SIGN "+" on the adjustable slider, top left corner of the map) you'll be able to see the street names very easily, and will be able to navigate your way around. See the River Seine? Very cool!
When I first moved to Paris, I bought a little red book which was a perfect fit in my handbag, and even in the back pocket of my jeans – it was called a PLAN DE PARIS, and was invaluable. I never left home without my map of PARIS! If you don't already own one, you might consider doing so.
Alternative map of Paris France
Here's a different map of Paris – this one actually shows you the names of buildings and is great to get a bird's eye view of the actual cars in the street!
[mappress mapid="4″]
Great news! I can now offer you a savings of 10% at the
Rand McNally Store
! Be sure to enter promo code
SAVE10
at checkout!
Type Paris in their search box, then check out Pop-Out maps, Arrondissement Maps, Wall Maps etc.
Finding a map in Paris
Looking for a map in Paris is one of the easiest tourist tasks you'll have :-)
They're absolutely everywhere, free, in tourist help centres, on the back of brochures, and they'll have monuments etc clearly marked on them — just what you need!  They're not as tough as the laminated ones or the small books – work out which type is best for you, then keep it with you every day you're in Paris.Would you like to ask a question or recommend a map of Paris?
If you'd like to provide a tip, or tell a story of your visit to Paris, please do! Simply fill in the Contact form below – thanks!