The best public transport is the Paris transport metro lines
I got quite used to Paris transport Metro trips when I lived in this amazing city. I lived without a car for three years, and became so fit because I did so much walking. If only I did that now :-)
I love the look of the quaint street lamps in Paris, and the all-too familiar Art Deco Metro signs, and whenever I see them in magazines I know straight away the photo was taken in France.
You will find them at the top of stairs leading down in the Metro stations, and before you know it you've entered a new different subterranean world. This can be a bit daunting if you're not used to underground metros or you don't know where you're going.
Once you're at the bottom of the stairs, you may be confronted with a host of tunnels you could walk along – so don't panic – get your bearings and look for signs and maps – all will become clear soon.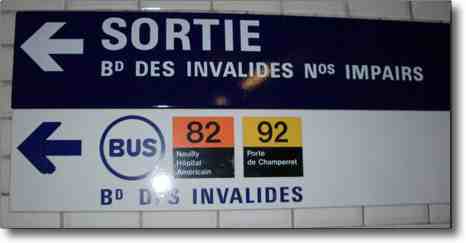 Above: Paris transport metro : underground railway station signs
PS – in the sign above, SORTIE means EXIT, and Bd des Invalides means Boulevarde des Invalides.
Look around, you will hopefully see a big board, with a map of the Paris arrondissements (suburbs/districts) on it, and the Metro stops clearly marked. You may also see a list of destinations with buttons beside their names (not available in all metro stations, but very handy when you do find it). Find where you want to go, press the button, and watch the lights light up on the big map in front of you.
Whatever you do, make sure you have something on you with your RETURN ADDRESS so that you can ask for directions if you need to on your way back home after a day out.
Make sure you have a MAP on you with your accommodation CIRCLED to help you spot where you need to get back to.
If you find one of these maps with train line LIGHTS on it, it'll show you which direction you'll be going in, and also clearly shows you which Metro "name" you'll be catching. Make a note of where you're going and the Metro name, and you will be able to buy a train ticket. There are tourist passes you can buy in advance, which will make public transport travel extremely easy for you.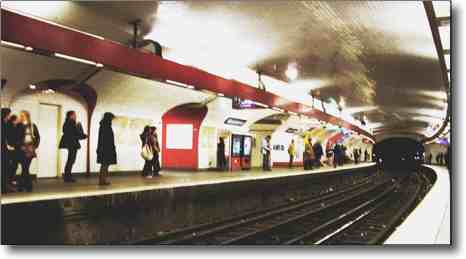 Above: Paris transport metro : underground railway station
There are so many brochures and tourist maps available all over Paris – just about all of them will have a paris metro guide, so you'll never get lost. Once you're on the metro, there are clearly marked metro maps  – and also inside the train. As you get on the train, pay attention to the name of the Metro stop where you were, and the next one you arrive on. Check the Paris metro guide above the door to make sure you're heading in the right direction – everyone goes in the wrong direction at least once :-) If this happens to you, simply get OFF the train and walk over to the platform where the train will go in the opposite direction.
Getting around Paris by metro
The RATP website is your one-stop spot for all info regarding métro, buses, and trains outside Paris – www.ratp.fr. Click the little English flag in the top right to read the site in English.
On the site you'll find a Paris metro [subway] map, where you can put in your 'from" and "to" locations, which method of transport you prefer, and a few other things, and you get the best instructions, directions and locations.
If you haven't already done so, sign up for my Newsletter "Postcards from Paris" and you'll receive a PDF map for free.
The ParisVisite Card
Buy one card to cover all your public transport travel:
Unlimited travel on Paris and Ile-de-France public transport networks (Metro, RER, Buses, Montmartre funicular railway, Tramway, Noctambus).
1, 2 or 3-day passes (consecutive days).
Reduced rate for children aged 4-11 inclusive.
Zones 1-3: Paris and the inner suburbs (La Défense, Air Museum at Le Bourget, Stade de France, etc.).
Zones 1-5: Paris and the outer suburbs (airport links to Roissy CDG and Orly, Disneyland® Resort Paris, Château de Versailles, etc.).
A book of vouchers entitling holders to reduced entrance fees and free gifts at a host of tourist sites.
ParisVisite is on sale in all metro stations, RER stations, commercial agencies, bus terminus sales windows, SNCF suburban train stations, Paris airports and the offices of the Paris Tourist Office. Abroad, it is on sale at travel agents and tour operators.
Buy tickets from Metro stations, RER stations, certain commercial agencies, bus terminus sales windows, SNCF suburban train stations, Paris airports and in 150 Paris hotels
Paris OpenTour
Tel. 01 42 66 56 56
http://www.paris-opentour.com
Paris Tourist and Congress Offices:
Opéra-Grands Magasins, Gare de Lyon, Gare du Nord, Eiffel Tower, Montmartre, Carrousel du Louvre.
For visitors simply call a single number : 0 892 68 3000 (0.34 euro/minute)
http://www.paris-touristoffice.com
And don't forget to have fun on your Paris transport metro adventure!