Airport Shuttle Options & Bookings in Paris
BOOK AIRPORT SHUTTLE SERVICE HERE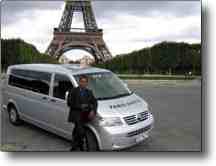 There's nothing worse than searching for the airport bus or taxi or even a local bus after getting off a plane and having to struggle [with your bags] in a foreign country.
What I do these days [which is so easy I can't believe I didn't do it years ago] is to book an Airport Transfer from the airport to the hotel BEFORE I leave home.
Online booking has made life sooo much easier, hasn't it?
Airport transfers in Paris are really inexpensive [starting from approx $US25 one way], are about a quarter of the cost of a taxi, and the maximum number of passengers is generally 4-6 so not over-crowded.
Book your return transfer while you're at it, and that'll be one less thing you have to worry about.
Other options for Getting Around in Paris >
So – how does it work?
Once you make your booking online, you will receive an email with your Booking Reference Number and all the details – date, time etc etc
Simply print this email, take it in your carry-on hand luggage, and you'll be prepared when you land in Paris
Many Parisian shuttle companies provide a free phone number for you to call once you're in the Arrivals Hall [after airport checks], and then pick you up a few minutes after you call
This saves them waiting around for passengers who miss their flight, or get held up in Customs or Immigration.
BOOK AIRPORT SHUTTLE SERVICE HERE
Other Airport Shuttle options
There are several different Airport Shuttle companies, but I'll recommend the one I used the most recently, so you're getting it straight from the horse's mouth :-)
Charles de Gaulle Airport Transfers/Shuttle (CDG)
Orly Airport Transfers/Shuttle (ORY)
Beauvais Airport Transfers/Shuttle (ORY)
All Airport Transfers/Shuttles
Before you book, have your info ready
I've chosen all the best solutions at the best prices I can find, to make it easy for you to choose, and to buy.
Now, you'll need to have a few bits of information ready before you book an Airport Shuttle online, so this list will help:
* Airline
* Flight Number
* Departing City / Arrival City
* Arrival Time
* Hotel Name and Address
Eurostar Shuttle
Maybe you need to get to the Eurostar train station for your next leg of your journey, or perhaps the Gare du Nord?
PARIS EUROSTAR SHUTTLE BOOKINGS
After you book your Airport Shuttle, read about the other options for Getting Around in Paris.