Finding Paris transport disabled and handicapped information is becoming easier.  More businesses, stores, buildings are becoming aware this is an important feature to provide, and there are many business people who are willing and keen to comply.
Having said that, you may still experience challenges in all older buildings where it is impossible to change the structure and layout.  So although Paris  is not the most  handicapped-friendly city in the world, there is a great move to change that in the coming years – the French are definitely trying to upgrade metro and other access wherever possible.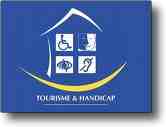 For more transport in Paris info and indepth notes on wheelchair rental and access to museums etc in Paris, please visit the Wheelchairs in Paris page.
Wheelchair/Handicap accessible Metro
Line 14, bus line 20 and some buses on the 91 line
Some SNCF trains, and RER lines A and B.
Book vehicles for handicapped/disabled travellers
There are now a few companies which provide transportation specifically for the disabled. Call 48 hours in advance to make your booking.
Aihrop – for adapted vehicles to and from airports call:  33 1 41 29 01 29
GiHP – for adapted transport within the city call:  33 1 33 41 83 15.
A very helpful site is http://www.access-able.com.
Look for the Tourisme et Handicap label, found in many places (more common now in Paris).
Wheelchair-friendly cafe
I did notice recently that there are a few Starbucks cafes with lifts/elevators and wheelchair-friendly toilets and restrooms.
Paris Transport Disabled Links

Where to rent a Wheelchair.

Restaurants with handicap access.

Download  listing of museums and hotels with disability rating.

AccessibleEurope.com – Tours, helpful tips for disabled/handicapped travellers

Family and Disabled Traveler Tours with FrenchLinks.com

Personal story of hotel accessibility in Paris for disabled travellers
Other Paris transport system options