The French word vachement means EXTREMELY, VERY or TRULY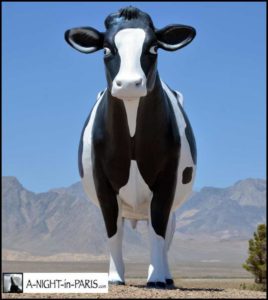 Vache is the French word for COW,so using the French word VACHEMENT makes you think you're saying, "Cowly!" — but in fact, it's quite different.
The word vachement really made me scratch my head when I first heard it and read it.
It also made me smile — a lot — and it's a great little French adverb I now use ALL the time :-)
It works equally well with adjectives (descriptors) and verbs ("doing" words").
"Il fait beau!" (translated to "It's a beautiful day!") becomes even better when you say:
"Il fait vachement beau!" which translates to "It's a VERY beautiful day!"
Interested in other French phrases? Pop over here >>
Want to chat with me about the French word vachement?
Pop over to Facebook , Youtube or Twitter, or send me a message via this website — I'd love to hear from you!