Joyeux Noel means Merry Christmas – Happy Holidays to one and all!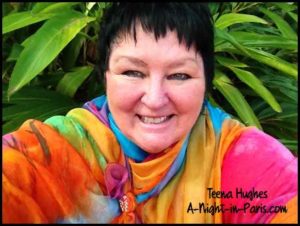 Bonjour a tous! Hello one and all! Today I'd like to share a couple of things with you:
my Message from Santa
and a new PDF download in French to help you build on your language skills
some Christmas in Paris videos
what to do in gai Paree over the holidays
a few new French lessons — I hope you like them :-)
Here's my Message from Santa — whatever you celebrate  — the holidays, Christmas, Hannukkah or anything else — my message to you comes from the hearyt – enjoy yourself and share the love with family and friends!
---
Things happening in Paris over the Holidays
December | Christmas  |  January in Paris!
What about New Year's Eve in gai Paree?
Look at this amazing list of events >>
---
Christmas Lights in Paris 2016
Have a look at Harper's Bazasar video: "From the twinkling lights and stunning architecture to the festive Eiffel Tower, check out just how beautiful Paris is during Christmas time. "
---
The famous Shopping experience, Les Galleries Lafayette, looks extraordinary in this video!
"Les balcons, la coupole et le toit des Galeries Lafayette décorées pour les fêtes de noël (balconies, dome and roof of the Galeries Lafayette decorated for Christmas) année 2016."
---
Paris Christmas Markets
"December is a special time in Paris, when days are short and you bundle up for the cold to stroll down busy streets or enjoy the lights twinkling along the Seine.
Travel across the continent and you'll discover a spectacular selection of Christmas markets, with beautifully decorated log cabins and inviting beer halls, where you can cosy up with a warming glass of mulled wine."
"But Christmas markets aren't all about beer and bratwurst; they're also the perfect place to pick up handmade gifts, ornate decorations and tasty sweet treats for your seasonal hamper.
Here's the best Christmas markets in Europe, complete with jingle bells, mulled wine and gifts galore." (Read more on Youtube)
---
A new downloadable Frenchified Printable just for you!
I've created a shiny new PDF of French words based on the Christmas season, you can grab it here:
to download, right click on the link above.
I hope these PDFs help you when you're in Paris, or planning your trip, or just daydreaming about being in the city I love — gai Paree :-)
---
Speaking French With Green Peas
A new way to teach you a little bit of French, tongue-in-cheek, which I hope you enjoy!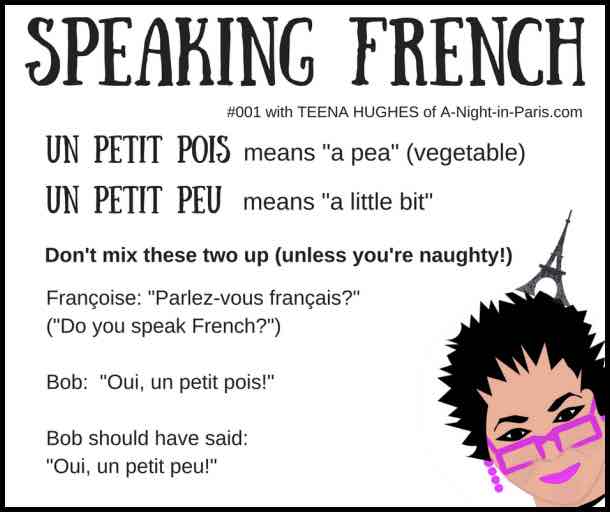 And this one: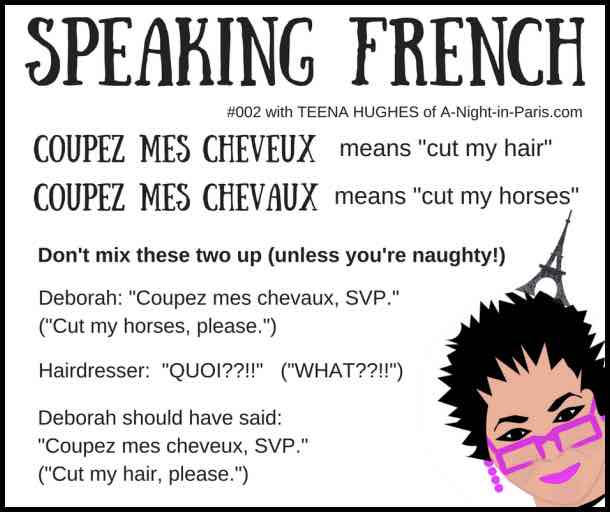 Speaking of Speaking French …
I am still using DUOLINGO every day on my laptop (it's an APP available for smart phones in many languages), and I am totally amazed at how much I'm enjoying polishing up on my French on a daily basis.
I don't often come in contact with many/any French speakers, so it's been great to keep the ol' brain active and Frenchified.
Speaking of Frenchified, I have found a French Barista who makes my double-shot latte just right!
Here's a coffee he made me recently — how cool is this?? How lucky am I? His name is Florent and he's loving Australia so far; his English is excellent and I love to surprise him with some obscure French I've picked up over the years :-)
Do you have a French cafe near where you live, or do you get to speak with French people (if you're not in a French-speaking location?? I'd love to hear about it – feel free to reply to my Newsletter email, post a Comment below or send a message on the website, or pop over to Facebook to say "Hello!"
---
Getting Around Paris — cheap as chips!
Not too keen on using the Metro or buses? Or simply in a hurry?
Or perhaps you're a bit challenge with mobility and want to get around as quickly and easily as possible? I hurt my back before arriving in Paris last time, and reeeeally found it difficult to get around. LeCab made it so much easier for me!
LeCab is a car service which is like a taxi but much better, feels like a chauffeur service, and is so inexpensive! I've mentioned it before, but I still think it's worth mentioning again :-)
8 Euro for any one-way trip within Paris
48 Euro to the airport (it's like being in your own limousine!) and soooo worth the money!
pop over to https://www.lecab.fr/
make bookings via the App on your smart phone – easy peasy.
If you check it out, let me know what you think!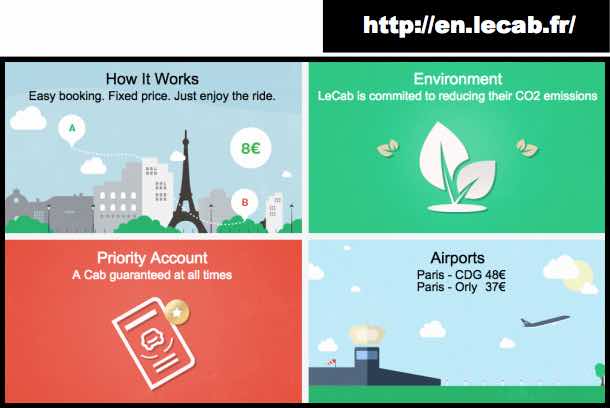 ---
Au revoir mes amis (my friends)! Cheerio for now, and wherever you are in the world, may your holidays be filled with love and laughter and may all your dreams come true in the New Year!
Hugs across the miles!

---
GOT QUESTIONS?? SEND ME A MESSAGE! LET ME KNOW :-) >>
(typing this to you in Australia on a little island off the east coast, at my local cafe right on the beach where I'm watching the yachts bobbing in the breeze!)
---
Not on the Postcards from Paris Mailing list?
Pop over there now and sign up so you don't miss out!
Already on the list? I hope you enjoyed Postcards from Paris in 2016!
See you in the NEW YEAR!
---