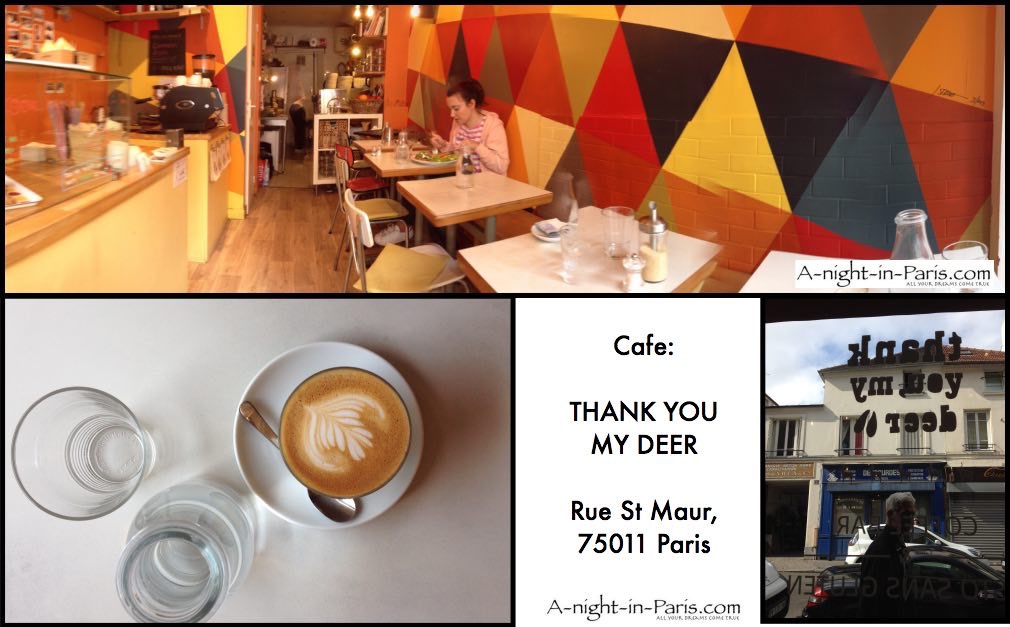 Today I was walking along Rue Saint-Maur and almost walked past this little café, but the blackboard sign outside made me want to go in :-)
The girls here are from Slovakia, Italy and Mexico, and offer gluten-free delights as treats or lunch (closed for dinner).
After chatting with the Barista to see how they make their coffees, I ordered a double-shot latte and was really, truly pleasantly surprised! Made with arabica beans, real fresh milk (not long-life milk like the average French cafe) and tasted great! Woohoo!
Do drop by and have a look if you're in the area — their menu is fresh and sounds delicious.
Cafe:  THANK YOU MY DEER
Located at: 112 Rue Saint-Maur, 75011 Paris
Open:  8:00am to 6:00pm
Update: 9 Sept 2015
I popped back to this café this morning for "P'tit Dej" (Petite Dejeuner = breakfast), where there's a variety of gluten-free muffins and and cakes, home made granola, and eggs – yum!