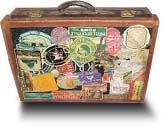 Make sure your luggage tag is keeping you safe
You've packed your bag, got your carry-on ready, passport in hand, and you head off to the airport.
You've probably diligently put luggage tags on everything (I hope you have), but what exactly have you written on your tags?
In this technology-aware era, I recommend that you only put your NAME and your TWITTER NAME and/or your EMAIL NAME.
(BothTwitter and Gmail. are free.)
Once upon a time you might put your address and a phone number, but there are too many shady characters gleefully reading your tags while you have a coffee at the airport.
If you already have an email account (and doesn't everyone these days?), you might also consider getting yourself a Twitter name at http://twitter.com – this is possibly the fastest way someone can contact you if anything happens to your luggage.
Even if you have a cellphone or a mobile phone, it's possible you may not be travelling with them, or that the reception's not great at your destination, or that your phone's 'roaming' doesn't work. This all makes it harder for you to be contacted.
Rethink putting your destination hotel name and phone number on your tag – this could also alert a thief at the other end, especially if you have a tag on your carry-on bag or handbag or day pack.
At least there are internet opportunities everywhere — unless you're in the jungle, and you may not need your luggage there :-) — so you can be quickly contacted in case of emergency.
This also makes it harder for thieves to do anything with the info on your luggage tag – they can't locate you by your address or phone number and ransack your home while you're away.
Feel safe – only put your name and email name and/or twitter name on your luggage tag;  you'll be so glad you did.
Additional Tips
staple or attach another tag inside each bag you have, with the same details, in case the tag on the outside is removed
to find out more about buying the Paris-flavored laminated luggage tags with my photos on them, please contact me
read more Travel Packing Tips about all kinds of things you might like to consider for your trip.
Have fun! Bon Voyage!
Tags: moo, moo.com, luggage tags