A few reviews on vacation lodging in Paris
When I was looking for budget vacation lodging Paris and hotel accommodation for friends, I always asked my friends to let me know what they thought about each place they stayed in. That way I would know whether to recommend the place to the next set of friends [and there was always plenty of those arriving from half way round the world most weekends].
If you'd like to let me know about a great place which you think should be added to this list, please click the Contact menu button and let me know.
I'll be grouping the places together by price:
Price range (per night):* € = 75 Euro and less [budget price]
* €€ = 150 Euro
* €€€ = 300 Euro
---
Vacation Lodging Paris Districts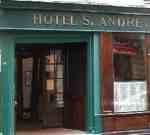 Hotel Saint Andre des Arts
66, rue Saint Andre des Arts, Paris 75006 France
Price €
Fantastic location in the heart of St Michel, near several metros, tons of art galleries, quaint & lively streets.
My Own Personal Review of Hotel St Andre des Arts!
I found this marvellous old hotel whilst walking around Saint Michel in Paris during my holiday, and was thrilled they had 2 nights available at the end of my trip.
The building dates back to the 17th Century – that's right – it's 400+ years old! When a building is so old full of such history, there will be some quirks, but that's all part of the charm. The wooden stairwell [no elevator] has sloping stairs, but after so much use, they would lose their 'charm factor' if they were modernised. I felt like I was in Shakespeare's era, looking at the exposed wooden beams throughout.
My room was on the first floor [remember, no heavy bags as there is no elevator] and was simply furnished with double bed, desk and chair, with high windows looking out over Rue Andre Mazet.
The toilet and shower took up the minimum amount of space possible [as do all the bathrooms in these centuries-old buildings] and was relatively new.
I loved being in a hotel in the heart of Saint Michel, with restaurants, bars, pubs, shops … everything … outside the front door. Interesting staff, very helpful. Absolutely perfect!
Liked: Location location location
Disliked: Tiny weeny shower
---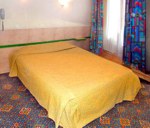 Jarry Hotel
4, rue Jarry, Paris 75010 France
Price € [around 40 Euros]
Details: 36 rooms, great location near Eurostar. Inexpensive, has all you need.
Read more details and book hotel
---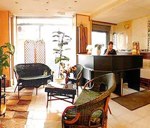 Aviatic Saint Germain – Price €€
105 rue de Vaugirard, 75006 Paris
Read more details and book hotel
---
These are a few vacation Lodging Paris examples and I will be adding more over time, so do come back. Better still, sign up for the Postcards from Paris Newsletter and be notified by email.
Enjoy your stay!
Related links to vacation lodging Paris:
Hotel Search | Craigslist Paris | Reviews | Gay Friendly | Short Rentals | Studios | Youth Hostels | B&B | Tips!