One Day Silk Painting in Paris, France
One-week Textile Retreat | One-day Silk Painting | One-day Textile Tasters | Textile Video Introduction
Below: These are some of  the things I use for painting on silk in Paris.
One Day Adventure – Silk Painting in Paris with Teena Hughes:
 Dates
I'm available during June & July 2012, so please check out my Calendar and then contact me with your preferred date/s, looking forward to meeting you!
Price for one day: $US195.00
Duration: 10:00 am to 3:30pm
(as at 30th Jan, 2012 this is approximately $AUD200.00) |  Click here to check conversion rate for your country
Above: Silk is stretched tightly on a woode frame and held securely in place with thumbtacks which are easy to remove.
What's included?
I welcome you with a coffee, tea or cold drink in a French café when we meet up!
Visit to my favourite silk painting store to buy :

the silk painting dyes
many different beautiful silk scarves ready to handpaint
silk painting tools, brushes, nozzles etc
books etc for silk painting
purchase dyes and brushes (or bring steam-set silk dyes and brushes with you)

Painting on Silk in the Studio (Atelier) for 3 hours (different techniques for Beginners Day).
Silk Habotai is provided for the practice session, and frames to stretch the silk on.
You receive an AbfabDesigns Silk Swatch Booklet of silk pieces with several types of silk.
You make your own Silk Painting Techniques Booklet during the class following my easy instructions.
I provide handouts with information about silk, and the textile history of Montmartre.
You will receive secure access to my Members Only password-protected webpage with silk painting videos & tutorials.
I provide Metro (bus and/or train) pass as required.
What else will we do?
Enjoy lunch in a local café in the middle of the day (we each pay for ourselves)
Enjoy an afternoon coffee or cocktail at the end of our One Day Silk Painting Adventure at a lovely Montmartre café bar (we each pay for ourselves)
Chat with the locals and enjoy being in Paris :-)
If possible, I will arrange for one of my friends to join us, so you can talk to someone who lives in Paris.
If you'd prefer to spend a week painting on silk, please click this image to read more about my week-long Silk Painting Adventure Textile Retreat: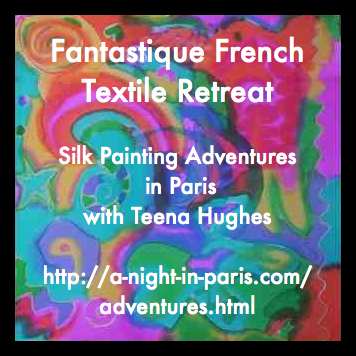 Ready to join me on my One Day Silk Painting Adventure?
Please fill in this little form to register your interest – I look forward to meeting you in Paris!
(If the form doesn't appear below, please use this online form instead – thanks!)
..