Like Paris croissants? Me too!
I've eaten my fair share of croissants around the world, but nothing compares to Paris croissants (made in France of course at every local bakery in every city, town and village), and more particularly Paris – because that's where I've done most of my research :-).
For the croissant to be great, it has to be slightly crunchy on the outside, but never so soft it's almost soggy to the touch. It has to be filled with air and light, so it's as light as a fairy.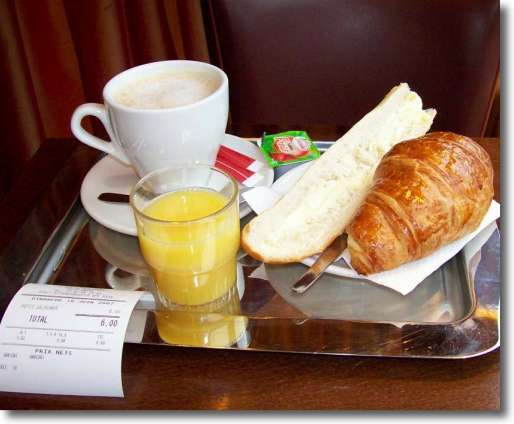 The French butter and flour is the secret [or so I've been told by French pastry chefs in Australia and France] and is difficult to duplicate outside the borders of France. Of course there may be good and bad croissants in Paris, but it's all in the eye [and taste] of the beholder. Visit a few different pastry shops [patisseries] and try different ones until you find YOUR favorite! Yum yum!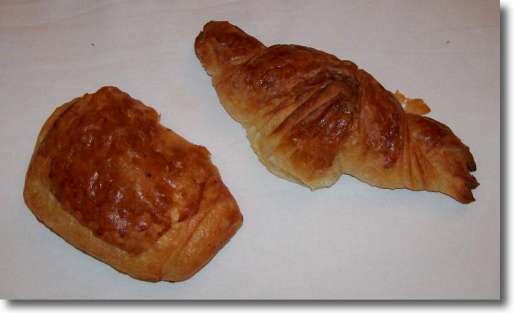 In the photo above I bought a 'pain au chocolat' which translates to 'chocolate bread' but actually means "chocolate croissant", and a 'croissant au beurre' which means 'butter croissant' — or croissant made with butter – sooooo delicious!
PS – it took me a while to do the adventurous thing of dipping my croissant in my strong milky coffee in the morning (like a French person), but it soon became second nature – you should try it!
In the photo above I was sitting in a little cafe at the foot of the Sacre Coeur (Sacred Heart church) in Montmartre, writing in my travel journey, and feeling great to be alive!
Stuffed croissants? Mais non! (But no!)
PS – Many countries now serve croissants for lunch, or filled with all manner of things like ham and cheese etc … but I prefer my croissants plain, or with a little bit of Bonne Maman strawberry jam [never add butter!], I'm not keen on what I call the 'stuffed' croissants.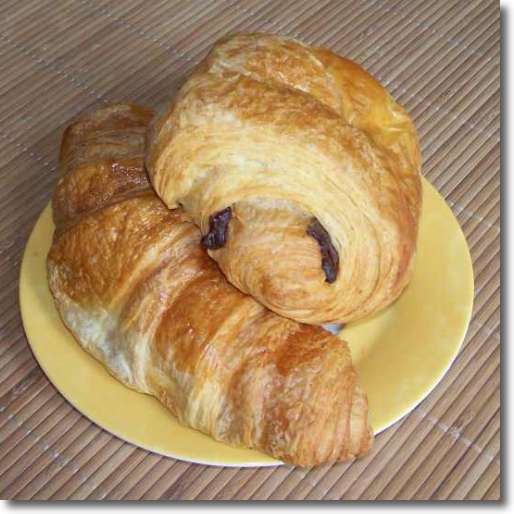 In the photo above I have bought two croissants locally near my friend Bruno's apartment, and have come home to make my own cafe latte.  can you see a recurring theme for what to eat in Paris? That's right, it's a plain croissant and a 'pain au chocolat' – chocolate croissant – which is delicious with a good strong coffee.