Your teacher – Teena Hughes
I have been painting on silk since first moving to France in 1980, and have shared my knowledge worldwide ever since.
I have lived in Australia, France, Greece, New Zealand and USA, and travelled extensively for the past 30 years to experience different cultures and textile traditions.
Well-known for my vibrant handpainted silk wearable art and textile designs, I love to share my passion for silk and the importance of colour in our everyday lives.
Involved in exhibitions and workshops around the world for over 20 years, I share almost 3 decades of knowledge and experience in painting on silk and surface design. I love life and enjoy every day, so be prepared to laugh and have fun in the Silk Adventure :-)
Currently living in Australia, I return to Paris each year to catch up with friends and to maintain my bond with the city I love, I meet with other silk artists / textile folks and share our knowledge. The plan is for me to move back to Paris in the next few years and continue to teach silk painting there.
Visit my websites and blog to learn more about me:
A new window will open when you click each link.
Photos from silk painting adventures / classes
Paris, France 2008
Above:  Here are a couple of us on the Welcome Champagne Cruise on the River Seine In June 2008 – that's me in the middle with the handpainted silk chiffon coat on.

Above:  A silk student in the silk painting supply store, trying to choose from one of the amazing Dupont silk dye colours.
Above:  A student learning the different techniques and embellishing the mini silk samples, ready to put into the Silk Journal.
Above:  A student's Silk Journal embellished with samples of the silk techniques.
Above:  Example of one student's silk painting, in Paris 2008
– Dupont silk dyes on habotai silk using cold wax.
Santa Fe, New Mexico, USA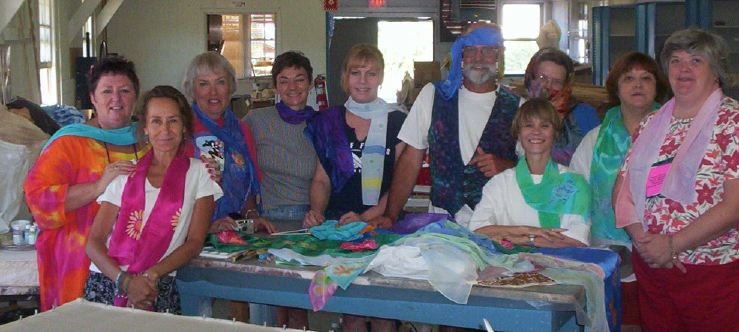 Above:  a wonderful group of silk artists in one of my classes at the Silk Painters USA 'Silk in Santa Fe, New Mexico' Festival.  That's me on the far left in the hot pink and orange handpainted cotton top with blue scarf.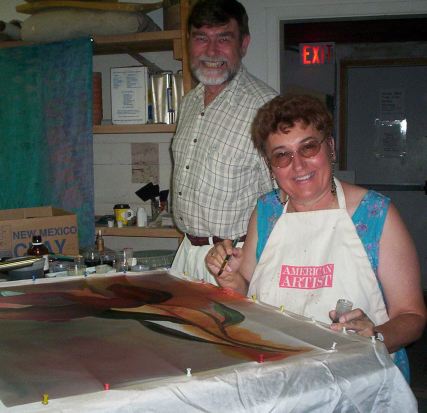 Above:  husband and wife team, Bill and Jacquie from USA.  Bill attends all the international silk festivals with Jacquie and is a master at stretching the silk for her – isn't she a lucky possum?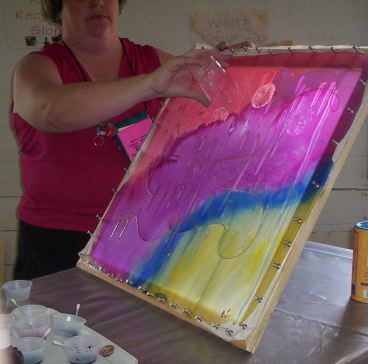 Above:  Betty pouring a sugar solution  – what fun!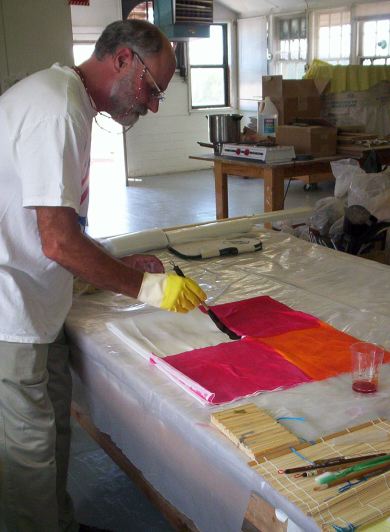 Above:  Barry preparing silk for the Volcano technique. Notice how Barry carries his brushes – he lays them out on a bamboo placemat, rolls it up, and secures the lot with a piece of ribbon.  This is a great idea as it keeps the bristles of the brush protected, perfect for carrying in your suitcase.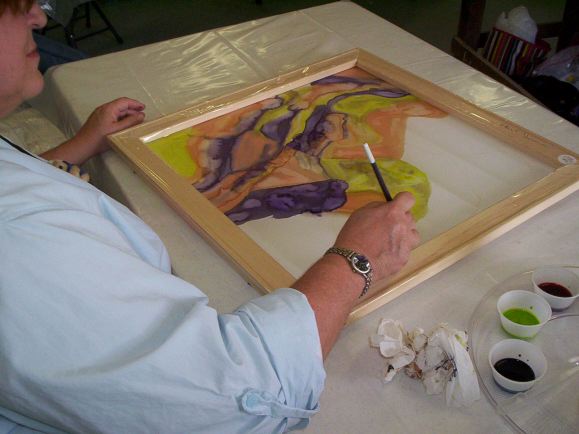 Above:  Sally is using a Fredrix artist stretcher-bar frame, which is so easy to carry in your suitcase.  Each artist has different ways of doing things, and as long as it works for you, then it's fine.  Sally has turned her painting over to view the back, and is making some small adjustments.  Painting on silk with dyes means that the front and the back of the silk are the same, and that either can be used as the 'front'.  Of course this does depend on the thickness of the silk – the thicker it is, the thirstier it is and soaks up a LOT of dye, and on the thickest silk it may look a bit patchier on the back.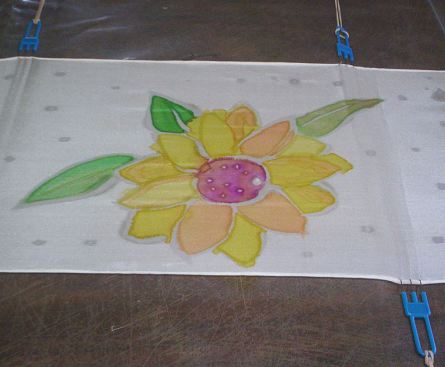 Using cream as gutta outline – well done Betty!

Student Jan came to Australia from Scotland to attend a class in 2008
Above: Jan using Cold Wax for the first time. I showed Jan how to make an outline just inside the frame so the dyes wouldn't stain the wooden frame. The next was letting her imagination run wild as she doodled on the silk with the Cold Wax (which dries quickly on a summer's day).

Above: We used French Dupont silk dyes, Fredrix artist stretcher-bar frames, and easy-to-remove thumbtacks.
What is covered in the workshop
History of silk
washing and care of silk
explanation of different frames, thumbtacks etc
discussion on hot wax, cold wax, gum-based gutta and water-based gutta
discussion on gutta and wax as 'outline' for a design
discussion on antifusant, milk and sugar as 'resists'
painting freeform without gutta or wax
understanding silk dyes and paints
understanding fibre reactive dyes which don't require steam setting
understanding colours and how they blend and react.
You will create:
silk samples of all of the tecniques you learn
a Silk Journal of your own incorporating the silk samples you make
other projects and techniques to be discussed on the first day of workshops.
If you have time you can create:
a map of Paris on silk (what fun!) using the technique of outlining designs on silk, plus other techniques learnt during the week.
The Students
The class goes ahead with two students up to a maximum of eight students.
Once we have two people signed up, a Google Group is created so that all they can get to know each other beforehand.  Once you've paid your Deposit, you will be given the link to sign up for the Group.
Airport Shuttle, Accommodation, Location and Jetlag
Location
This year the Silk Adventure will be held in Boulevard Voltaire in the 11th Arrondissement
In the map above you can see the M for Metro (near the middle of the image), which is the Voltaire metro.  Just south of that is Rue de la Rocquette – cross over and walk along Boulevard Voltaire (you'll be given the full address prior to your departure from home).   This is a lovely neighbourhood, and is not far from the Bastille monument ('La Bastille' – pronounced 'lah bastee').
The 11th arrondissement in Paris
In the map of Paris above you can see the 20 districts known in French as 'arrondissements'. The blue stripe from left to right is the River Seine, and the 11th is to the right of the 3rd and 4th arrondissements (in the eastern part of Paris).  There is always plenty of public transport in Paris, and I find it to be one of the easiest cities to get around in without a car.
Airport Transfers for arrival and departure
are provided for the first and last days of the adventure.  Before you leave home and after you have let me know your arrival time and flight details, I will book the Airport Transfer Shuttle Bus for you, and email you the Reservation details.  You must bring this information with you in your carry-on luggage, and as soon as you have collected your baggage, you will proceed to the nearest phone and make a free call to the Shuttle company.
You will tell them which Terminal you have arrived at, so they will know where to collect you. This is the best and most effective way for you to be collected and taken to your hotel.  Shuttles are included for arrival and departure dates only.
If you arrive earlier or depart later than these dates, I am happy to organise pick-ups for an additional fee.
Accommodation
Accommodation is twin share, and if you'd p[rprefer a room on your own, please let me know and go ahead and pay the Single Supplement. I will email you details of your Hotel Reservation in advance, with additional information for your arrival.
I try to book all hotel accomodation in the same hotel, but this will depend on when you sign up.  If you sign up several weeks after other students, I may not be able to get a room in the same hotel for you, but will do my best to get you a hotel room of the same quality very close by, within walking distance of the other hotel (if at all possible).
Many hotels in Paris do not allow you to access the rooms until early afternoon – 1:00 or 2:00pm.  If your flight arrives early in the morning, I can request early check-in, but experience shows this is unlikely, because summer time is a busy time in Paris and many hotels have check-out time as 12 noon.
I suggest the best thing you can do is to take advantage of this wonderful morning and drop off your bag at the hotel.  There are two things I love to do in this situation after I leave the bags at the hotel:
take a cruise on the Seine for a couple of hours, then head back to the hotel.  As your departure date gets closer, if you would like to take this option let me know and I will book a Seine Cruise for you at an additional fee, and email the Receipt and directions from your hotel to the Cruise departure.  All you'll have to do is get to the boat, ticket in hand, and enjoy the sights of Paris from the water.
go for a walk, find the River Seine, and find a cafe and people-watch;  make sure you have a notebook or sketchbook with you, and write down how you feel about being in the city of Love – do a sketch or two, even if you think you can't draw – this will help you express your joy at being in Paris, and will be wonderful to read years into the future.
Jetlag
If you're travelling a long distance, say from Australia or New Zealand, you will of course be spending about 24 hours or more in transit.  I've done this journey to Europe and the USA many times, and I'd like to share my tips with you.
on your arrival day do NOT go to bed before 8pm or you will have great difficulty for at least a week trying to get into the time zone
on each day after this, try to stay up for one hour more each evening
as soon as possible on your day of arrival, take a shower and at least brush your teeth (you should have toothbrush and toothpaste in your carry-on bag – you can do this in airport terminal too) – feel refreshed – pretend it's regular morning time, and get out into the streets
set your watch or mobile phone/cellphone clock to the local time
eat your meals at the 'local' time
do NOT, I repeat do NOT take a nap which lasts for 3, 4 or 5 hours or you will have great difficulty for at least a week trying to get into the time zone
if you MUST take a nap, set an alarm clock for TWO HOURS ONLY on your first day; try to limit naps to one hour per day after the first day
if you follow these tips, you'll be in the swing of the time zone within two days, easily
if you have tips you'd like to share, let me know and I'll add them here :-)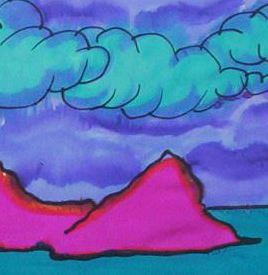 Travel Checklist
I have created a Travel Check List which includes everything I've ever ha to think of when travelling, and which you might find useful – simply click this link to visit the page.  Once you pay your Deposit, you will receive more information on other items to consider bringing with you.
On the Travel Tips page, you'll find even more tips and things to consider before you leave home – it's well worth a few moments of your time to read it.
Weather, Clothing, Shoes
Weather
June in Paris is the start of summer, with the possibility of a few hot days and cooler evenings, and perhaps even a few cooler days.   I always have a fold-up umbrella with me in Europe, because you just don't know where that next rain shower will appear.
The winter Adventure is schedule for November, which is mid-winter as far as Europe goes. Snow is possible, but not usual, cold, wind and rain may be expected. But don't let this put you off. Paris in winter has fewer tourists, fewer people queuing up to access places of interest, and it has a light and a feeling which must be experienced.  Of course I'm totally biased – I've loved Paris for almost 30 years, and find her breathtaking every time I visit :-)
Clothing
Summer – I tend to take summer clothing with something long-sleeved for cooler days/evenings. In June 2007 I had one long-sleeved shirt, and one slightly warmer top/cardigan or jacket for evenings, as well as my summer layered clothing.
Whatever you decide to bring to wear, remember you'll be using permanent dyes in your workshops, so maybe an old tshirt or shirt to cover up in the workshop will be a good idea.
Winter – You will need a warm coat, gloves, scarves and shoes to keep your feet warm. Layers are a good idea,, as it will be warm wherever we are indoors, and you'll be able to take off coats etc. Of course silk is wonderful for winter – a tight weave keeps the warmth IN :-)
Once you've signed up, you'll get more info and clothing suggestions.
Shoes
Summer – Sensible COMFORTABLE walking shoes are the best idea, such as sneakers, strapped on sandals and even Croc-like shoes (which is what I lived in last year).
Winter – You'll need leather or non-slip warm shoes, socks or knee-highs – whatever you would wear in winter at home. Just remember that open shoes and sandals are not suitable to wear outside in Paris in winter, and wet cold feet can ruin your entire day.
There are some cobblestone roads in Paris, and some surfaces may be uneven, so whatever you wear on your feet have to be comfortable.  Please also note that the French are VERY fashion conscious – men as well as women – and I do carry a pair of dressier sandals in my day pack – I put these on before I go into a restaurant, and then I feel a bit better dressed.  This isn't vanity, this is just wanting to look the part of someone who understand Paris.  :-)
Money, Camera, Power
Money
Cash machines/Automatic Teller Machines (ATM for the Aussies or EFTPOS) are everywhere.
Do let your bank/credit card company know you'll be travelling overseas, and which country, as they may get concerned with the activity on your card. They will call your local contact number – and you won't be there to answer their questions.
PLEASE NOTE:  If you plan to put other accommodation or deposits for trips etc on your card, those companies will run it through their machine, in anticipation of your departure date (for accommodation).  Be warned – the credit card company MAY 'flag' this amount as a debit on your card, even though you haven't paid it yet. This could mean you are left short of money without understanding what's happened.  I have friends who've been caught out in this situation, and had to make calls to Australia to get extra funds sent over.
Travellers' Cheques are still available, but I have not used them for twenty years, so I can't say how many places you can cash them at in Paris. Travellers' Cheques/Checks are hard to cash and I understand very few shops or restaurants accept them.  Use your credit or debit card to withdraw cash.
Camera
These tips should help:
Always carry spare batteries for your camera – you'll be so disappointed to miss out on anything.
Buy yourself a 'flash card' for your camera before you depart – there are great choices for less than $A50.  These are inserted into your camera, and will have plenty of space for all your photos – 2Gb (Gigabyte) will be plenty.
Bring camera download lead or cable (just in case).
Before departure I will send you a brief info sheet on Digital Cameras and how to take the right 'size' photos – we'll also cover this in your Orientation in Paris.
If you have a regular USB Memory Stick, Thumb drive  or Flash Drive, and if I have my laptop with me, you will be able to download your photos via your camera download cable, and I can then copy your photos to your Memory Stick.
Power
240 volts, European  and UK adaptor plugs needed if you have anything which needs to be plugged in (hair dryer? laptop?).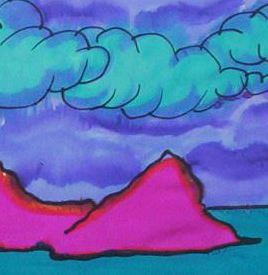 If you would like to register your interest in being part of the Silk Adventure, please fill in the form on this page:
http://www.a-night-in-paris.com/silk-painting-france-form.html
I look forward to hearing from you and sharing my Paris with you,
Ciao

Teena Hughes
PO Box 1333
Rozelle  NSW  2039
Australia
Tel within Australia:  0408-801-808
Tel from outside Australia:  +61-408-801-808
BEFORE you phone, visit the WorldTimeServer international clock to see what time it is in Sydney! (A new window will open when you click the link.)
Above: Teena's handpainted silk devoré velvet withFrench  Dupont and AlterEgo dyes