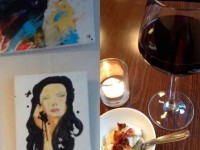 Finding a traditional French restaurant in Paris is great!
On a drizzly evening when I was looking for something delicious for dinner, I wandered around a little quartier I wasn't familiar with. There was a Lebanese restaurant and French bistrots, and then nestled  – almost hidden – between some shops I found A Deux Pas.
I shook the rain off the umbrella and stepped inside this cute little place. I was disappointed to see "Reservé" ("Reserved") signs on the tables, but I asked if there was room for one more. When the lady told me that they had one table left I was really pleased, and got settled at the first small table just inside the door on the left.
After reading the menu I could certainly agree that this traditional French restaurant in Paris had some marvellous options, and as soon as I saw "it" I knew what I was going to order.
While I waited to place my order, I took in the cool artwork on the walls, and had a good look around. There were 5 small tables along each of the two available walls, and the whole place was about 10′ or 3 metres wide. Each table could accommodate two people, so a maximum of 20 people in the entire restaurant. At the end of the room was the cash register and an open window into the kitchen where I could see the Chef.
I decided not to have a starter course, as I didn't want to fill up before my steak with Bernaise sauce arrived (filet de boeuf avec sauce Bernaise is one of my all-time favourites from when I lived in Paris). I asked the delightful owner to recommend a glass of red wine (I think it was Corbierre) and I settled back to savour the thought of my dinner about to be prepared in the kitchen. My tastebuds were salivating with anticipation :-)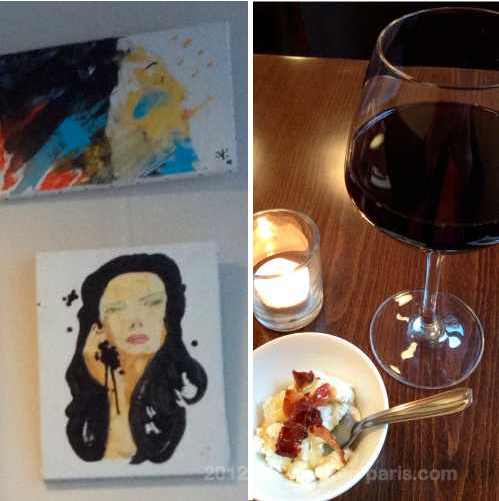 The owner returned and placed a gorgeous little bowl in front of me, and said it was a little "amuse bouche" to prepare my mouth for the first course. It was a small amount of soft white cheese, almost like ricotta, with hot bacon pieces sprinkled on top. A drizzle of honey had been added which made this a delicious and very interesting little taste sensation – what a lovely gesture!
When my dinner arrived, it looked absolutely fabulous. And it tasted delicious!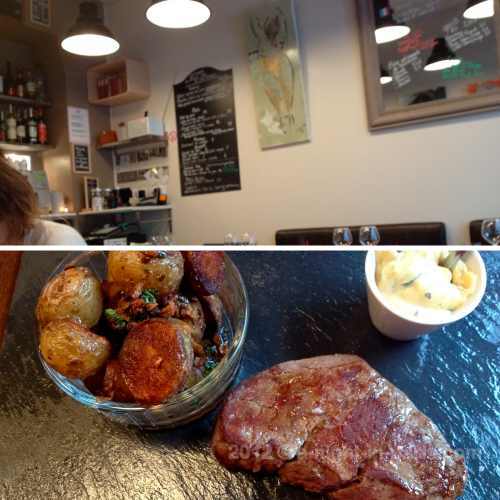 In fact I can remember the taste as I type this … the sign of an excellent meal. The filet de boeuf (fillet of steak) was resting in the centre of a platter, with a small bowl of Sauce Bernaise, and a larger bowl filled with small roasted potatoes drizzled with garlic and onion confit. Oh my! I'm in heaven :-)
The restaurant filled up very quickly with other diners, and I thoroughly enjoyed my little adventure here. I can highly recommend this restaurant if you're in the area.
A Deux Pas
Traditional French restaurant in Paris
55 rue Saint Maur
75011 Paris
Ouvert du mardi au samedi midi et soir le dimanche midi / Open from Tuesday to Saturday lunch & dinner, & Sunday lunch
Réservations : 01 43 55 67 52
Metro: Rue St-Maur / St Ambroise
Prices:
wine approximately 4,50 euro per glass
main meals approximately 14,00 to 19,00 euro
You might also enjoy the Where to Eat in Paris page and also the Famous French Food page.
Map to this traditional French restaurant in Paris
[mappress mapid="30″]