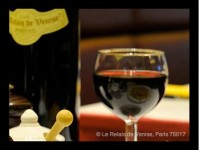 In the mood for a very tasty steak and fries ("chips" and the French "frites")? Pop over to Le Relais de Venise.
I love a good steak and I really love Chateaubriand, but if you're not looking for something so rich, you might enjoy this great resto (and the great news is they're also in London (x 3!) and New York!)
head on over to Porte-Maillot metro in the 17th arrondissement
no reservation is necessary
when ordering your how your steak will be cooked, you'll only have TWO choices — rare or well-done, so please don't ask for anything else :-)
This restaurant has also become known by the name of L'Entrecôte and you can ask for directions and everyone will know which restaurant you mean.
Once you're seated at your table, your waitress will ask you: "Saignant?"  (rare), or "Bien cuit?  (well done)".
That's it — no other choices, no "medium" or "medium rare" — so knowing that up-front will make it easier to choose. The steak is thin so it can really only be cooked in two ways. Easy, non?
When your steak arrives it will be thinly sliced and covered with an amazing sauce (and it's a secret recipe handed down through the generations), paired with delicious "frites" (or fries, also known as "hot chips" in the UK, Australia and New Zealand).
When you're ready for dessert you'll have many wonderful delicacies to choose from, so go ahead and enjoy!
Your Say
If you do visit this restaurant, I'd love to hear what you think about it – just send a Comment below, or a voicemail (click the button on the right of the website) or tell me about it on my Facebook page, Twitter etc — thanks in advance!
271 Boulevard Pereire
Porte-Maillot 75017
Tel: 0145 74 27 97
Map to Le Relais de Venise Restaurant
[mappress mapid="36″]
For other great famous French food to eat, pop over here >>